Retail struggles, warehousing gains, office unknowns. Questions cloud the future of the commercial real estate market
Photo: Mark McManus, partner, Valco Consultants
FALL BROUGHT NOT just a second wave of Covid-19, but also a second chance for governments across Canada to figure out how they would deal with the virus.
Earlier this month, the Ford government came down on the side of keeping the economy at least limping along, when it unveiled its new approach to lockdowns.
Mass shutdowns are out in favour of targeted actions — and only when outbreaks reach a higher threshold than in the spring.
"So many people are working from home. What we don't know is whether this is just a blip in time or signals a long-term change in how people work" ―Mark McManus
Practically speaking, that means masks and physical distancing are the twin pillars on which many retailers – restaurants included – will rely this winter to survive. We've already seen that won't be enough to save everyone, and it's not clear how much the new policy will help office landlords.
Click here to view this story in magazine format
"So many people are working from home," says Mark McManus, a partner with real estate appraisers Valco Consultants. "That much is clear when you look at what's happening in offices right now. What we don't know is whether this is just a blip in time or signals a long-term change in how people work."
Like many other observers, McManus assumes companies will look to save money by having more people work from home, even with the pandemic is over.
Story Continues Below

"The trend in offices has been wide open spaces," he notes. "When people do return to offices, there could be some major renovations to create private spaces, an entirely different landscape."
A third-quarter snapshot of the office and retail sectors in London noted a slight dip in the vacancy rate, to 15.1 per cent. But the report, by CBRE, warned the relative good news might simply reflect a lag in the full effect of pandemic. "We're seeing a flood of space on the market in Toronto and Kitchener," said CBRE vice-president Ted Overbaugh. "The London market is always slower to react."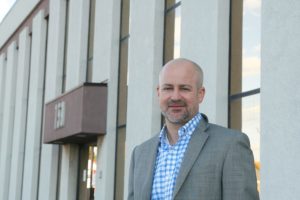 There isn't much data yet to measure the local retail sector, but the downturn is hard to miss. "Triple-A properties and big boxes are doing fairly well," says McManus. "The greatest impact is in secondary locations with local tenants. Some smaller retail plazas were just locked up in the spring, so tenants couldn't get in."
When you pull thousands of people out of offices and close or restrict other downtown magnets, you severely choke off the lifeblood of the city's core. When they were allowed to open after the initial shutdown, many retailers reported daily customer counts in single digits.
"People want to stay open. It takes a toll on their psyches to be closed," McManus says.
New regulations are designed to give those businesses – and by extension their landlords – a fighting chance when the cold weather arrives. When the snow melts, we will see how successful they were.

Christopher Clark