Ahria Consulting leverages artificial intelligence to make leadership coaching more effective and impactful
FOR MANY PEOPLE, the concept of leadership coaching can be a bit mystifying. Entrenched in the C-Suite, and often trading in fuzzy human metrics like 'fortitude,' or 'decisiveness,' or 'mindset,' it can be tempting to write it off to perplexity.
Terry Gillis disagrees. At least, partly.
For Ahria Consulting, the human resources and leadership firm he leads, coaching and training those at the top of the corporate ladder (or striving for it) is central to the service they offer, and a new tool, powered by artificial intelligence (AI) and called PowerCoaching, is aiming to remove the complexities by creating a ­centralized digital channel that helps track the impact leadership coaching is having on an employee or leader.
Click here to view this story in magazine format
"We were looking for a solution to bring coaching to more organizations and more individuals, at a price point that is not limited to the C-suite," says Gillis. "That became our rallying cry."
"Pre-Covid, a tool like this made a lot of sense. Post-Covid, people are facing huge uncertainty and need to solve big problems ― exactly where this tool is focused" ―Terry Gillis
Think of it like a tracking app, but for your professional goals. Working with a coach, a person can track goals and progress, as well as keep a coaching journal. The ­technology can go even further, too — for employees seeking deeper insights, the service can also employ AI to scan through a coaching journal to determine what your emotional state is like.
"Coaching is a very personalized thing," Gillis explains. "Our emotional intelligence really dictates how we learn. Just by picking up on that, it may be enough to get you over that hump."
The technology comes via a partnership between Ahria and LeaderAmp, a U.S.-based tech firm that created the technology, and which counts Facebook among its client base. Gillis says this technology is the first of its kind in Southwestern Ontario. "We're bringing Silicon Valley to London," he says.
Story Continues Below

For users of the service, the technology promises a deeper and more effective form of coaching that extends beyond the confines of the office, helping bridge a perceived gap between someone's professional and personal states of mind.
"Emotions and learning are very much intertwined," writes Dr. Matt Barney, founder of LeaderAmp. "Looking at the pattern of the client's emotions over time allows a more holistic and systematic perspective as to whether the client is making ­progress or needs more support."
"It's really about extending that coaching into the person's daily life, really for the first time ever," Gillis notes. "It's a much more efficient coaching relationship."
As leadership coaching has grown as an industry, the need for it to become more personalized and flexible has become apparent. Just as there are different types of learners, workers, managers and teachers, there are different leaders — and not everyone responds to a standardized model of coaching, nor does everyone optimize themselves in precisely the same way.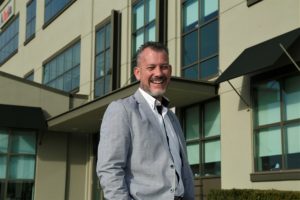 At its best, this technology helps achieve that kind of personalization, Gillis says. The app does not exist to replace the coach, but to aid them in their work.
"It really augments the coaching process," he says. "It becomes both an accountability tool and a training tool."
And coming when it does, as the Canadian economy molts its pre-pandemic skin and figures out what its new one looks like, Gillis sees a clear value in reaching for technology to help.
"The reason we embraced this tool was that at its core is real science, and we pride ourselves on using science in everything that we do," Gillis says. "Pre-Covid, a tool like this made a lot of sense. Post-Covid, people are facing huge uncertainty and need to solve big problems — exactly where this tool is focused."

Kieran Delamont