How do two successful Waterloo tech professionals transition to the next stage? Why you come to London and open a distillery, of course
Photo: Paradigm Spirits co-founders Irma Joeveer and Michelle Debus
GENERATIONS OF LONDONERS grew up knowing the unmistakable smell of the Kellogg's plant — a grainy, sweet and malty odour that wafted out of the cereal manufacturer and drifted across much of the downtown's east end. With the closure of the plant in 2014, it seemed that the smell was a thing of the past.
But 100 Kellogg Lane, where boxes of iconic cereal used to be made and packaged and shipped off to breakfast tables across the country, has taken on a new and exciting life in recent years as mixed-use destination — home to a wide-ranging entertainment complex, premier office space, food providers and future plans for a boutique hotel.
Click here to view this story in magazine format
And, with a brewery (Powerhouse Brewing Company) and now the Paradigm Spirits Co. distillery on-site, something else has returned: that same smell, no longer an artifact of mass cereal production but of the quiet brewing revival taking place there.
"We live in a community that's right smack dab in the middle of some of the most arable land in all of Canada. The grain that we're using today to produce our spirits and our beers is a lot of the very same grain that was used when Kellogg was making cereal 50 years ago. That's a remarkable thing" ―Irma Joeveer
"When you pull up to our site, if Chris [Chris Patterson, brewmaster at Powerhouse Brewing] is brewing beer or setting a new mash in the distillery, that same yeasty, corny, grainy smell wafts its way throughout the facility," says Irma Joeveer, co-founder of Paradigm, which opened in early November. "It's something that people comment on all the time. It's unmistakable."
Paradigm Spirits started with an illness. "In 2015, I fell ill," Joeveer says. "I was home for about six months having chemo treatments, and in that time, Instagram was really taking off and I had a lot of time on my hands to do nothing," she says. "I fell in love with cocktail culture."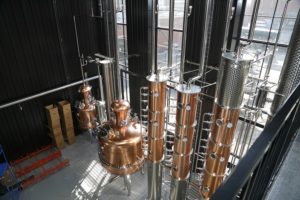 Joeveer and her partner, Michelle Debus, had both made their careers in Waterloo's tech boom. But they'd always talked about that magical what if?
"What if we would do if we could do it all over again," Joeveer says of the notion that planted the business seed. "We started to realize that we had this passion for spirits — this passion for cocktail and imbibing culture — and for hospitality."
It wasn't long before the two of them were down in Kentucky, learning the ins and outs of the whisky trade. And then it wasn't all that much longer, just a few years, before the two left the tech space and relocated to the Forest City to start their new careers. It was an economic, and a personal, fresh start.
Story Continues Below

"We had raced through education and just did everything we could to grow our careers as quickly as possible," Joeveer explains. "We developed a really strong work ethic, and we have a great handle on how to run a business. So, we're applying those skills in a different industry."
Paradigm is launching with a simple product lineup — two gins, two whisky blends and a vodka. What gets Joeveer excited, however, is talking about the other cocktail workhorses that are often overlooked — things like amaros and aperitifs. "Materials that are used in cocktail making," she explains, "but not necessarily readily recognizable.
"Our goal is to keep a pretty diverse product roadmap and to produce in very small quantities," Joeveer continues. "And to keep things interesting as we grow."
As the new kids on the block, Joeveer and Debus know that they are setting up shop in a city where brewing and distilling has a long history and a dynamic future.
"Black Fly [Beverage Company] is iconic, a really great example of a company that started out exactly where we are today," Joeveer says, rattling off a list of other success stories in London's alcohol industry, parts of a growing renaissance in the city.
"Here in London, we live in a community that's right smack dab in the middle of some of the most arable land in all of Canada," Joeveer says. "The grain that we're using today to produce our spirits and our beers is a lot of the very same grain that was used when Kellogg was making cereal 50 years ago. That's a remarkable thing."

Kieran Delamont