A day in the life of a food entrepreneur
Margaret Coons of Nuts For Cheese chats about managing rapid growth, the name game and the benefits of a liberal arts education
Photo: Margaret Coons, CEO, Nuts For Cheese
MARGARET COONS IS founder and CEO of Nuts For Cheese, a thriving London company that makes vegan cheese, and more recently, butter. Based on a cashew recipe she began developing more than five years ago, the products are available in grocery stores across Canada. All products are made in London. The company began operations in 2016 and has 30 employees.
Coons grew up in Ancaster and graduated from Western in 2012 with a BA in English language and literature. When she's not working, she still enjoys ­experimenting in the kitchen. She also practises yoga and is itching to get back on a plane to travel. She just turned 30.
Click here to view this story in magazine format
Why did you decide to create a plant-based, dairy-free cheese?
There weren't a lot of plant-based options when I was growing up as a young ­vegetarian and then vegan. I've always been ­passionate about making plant-based alternatives more widely available and developed my very first dairy-free cheese recipes when I was a chef at a London vegan restaurant.
How did you arrive at your cashew-based ­recipe?
I spent hours — and many late nights — experimenting with nuts and seeds to create creamy sauces emulating cheese. I landed on cashews because of their decadent flavour profile and consistent texture.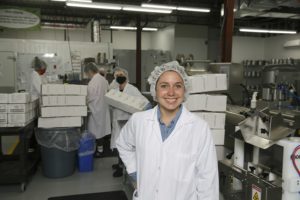 What about the name, where did that come from?
A few glasses of wine with friends and tossing ideas around! There were a number of contenders, but Nuts For took the cheese-cake.
Was there a big break you remember? A retailer that bought in early?
We've been fortunate to grow very organically. When we did secure our first large retail partner, it caused a monumental shift in the company as we dove into the world of palletization, distribution and grocery, suddenly scaling up quickly.
You recently introduced Nuts For Butter. Was that a natural evolution of your company or was there some specific motivation?
We've always been interested in growing the plant-based category and our own Nuts For family of products. Our Nuts For Butter is made using similar ingredients and processes as our dairy-free cheeses, so is a natural line ­extension. Like our cheeses, our butters work for a variety of cooking occasions and function like their dairy counterparts. They melt, spread, cook and bake like no other plant-based butters we've tried.
Story Continues Below
You studied English and literature. Obviously, a business degree is not a requirement to be successful.
I think post-secondary diplomas and degrees instill a lot of the soft skills necessary to succeed. While I loved every moment of attaining my liberal arts degree, I think the best education is found in trying new things, taking risks and learning from experience. Also, with my English degree, I can write a mean email!
Can you describe a typical workday if there is such a thing?
I work well with variety and it's a good thing because on any given day I might be ­experimenting with our product development team to create new products, giving my opinion on marketing assets, meeting with a major retailer, formalizing an HR policy — Covid's provided no shortage of ­opportunities to take care of our team at an HR level — or testing our products in decadent recipes. All in a day's work!
Best part of your job?
My team keeps me going. Of course, I'm rewarded by the many customers who thank us for existing, but on the harder, longer days, it's the strength, skill and support my team provides that buoys me. Though we're a young company, we have an extraordinarily dedicated team, many of whom have been with us from early days. They are a constant source of laughter and friendship, and in an increasingly complex environment they carry me and the company forward every day.
Worst part?
Growing isn't without its challenges and every day is a juggling act, fitting floating puzzle pieces together in a constantly evolving picture. It can be overwhelming, but I have strong mentors who give me perspective on the tough days.

Interview by Christopher Clark