Business (Cares) as usual
Adapting to Covid restrictions and putting an emphasis on financial donations, the Business Cares Food Drive kicks off its annual campaign
Photo: Business Cares campaign chair, Wayne Dunn
THE COVID-19 PANDEMIC may have changed how we interact with each other in 2020, but it hasn't changed the fact that many Londoners find themselves in need. And even if things may look a little different this year, the Business Cares Food Drive is set to kick off its annual campaign next week.
"In many ways, 2020 has forced us to stay apart, but now, more than ever, the need is there for us to come together as a community to support our fellow Londoners," says Wayne Dunn, Business Cares campaign chair. "Though the way we interact and the way we do business has changed, the concept of 'taking care of business means taking care of people' has never been more important."
"The business community will be asked to give what they can ― and only if they can" ―Wayne Dunn
At the launch event, set to take place on Tuesday, December 1 at RBC Place, Dunn, along with campaign members and London Food Bank representatives, will share plans for the 2020 campaign and changes necessitated in response to the Covid-19 pandemic.
"For the past 20 years we have been truly humbled by the outstanding support members of our local community generate for those in need in our community," Dunn says, adding that this year the focus is on financial donations to provide the London Food Bank the ability to purchase fresh produce, milk, eggs and baby food to support its various programs throughout the coming year.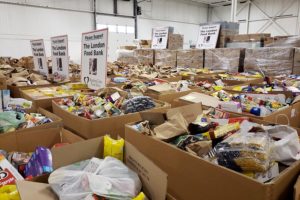 Last year, the Business Cares Food Drive received a record total of 476,000 pounds' worth of food generously donated from the London community.  
"This year, with what our world and city have gone through with Covid, there will be no goal," Dunn states. "The business community will be asked to give what they can ― and only if they can."
Story Continues Below

The London Food Bank provides emergency food items for over 7,000 individuals monthly ― 39 per cent of whom are youth under the age of 17. In addition, the number of seniors using the Food Bank's services continues to increase.  The London Food Bank also provides assistance to over 28 other programs and social agencies in our area.
For more information about Business Cares, please visit businesscares.ca.