VersaBank acquires local cybersecurity firm
VersaBank, through its DRT Cyber Inc. subsidiary, has signed an agreement to acquire Digital Boundary Group
IN ORDER TO stay at the forefront of digital security and increase its security services offerings to clients, London-based fintech firm and Canadian Schedule I chartered bank VersaBank has announced that its wholly owned, Washington, DC-based subsidiary, DRT Cyber Inc., has signed a agreement to acquire Digital Boundary Group, a London-based information technology (IT) security assurance firm.
DBG provides corporate and government clients with a suite of IT security assurance services that range from external network, web and mobile app penetration testing through to physical social engineering engagements along with supervisory control and data acquisition (SCADA) system assessments, as well as various aspects of training.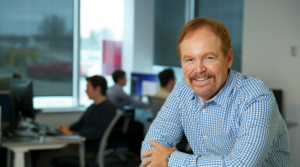 VersaBank CEO, David Taylor
DBG's clients range from some of Canada's largest retailers and financial service providers to Canadian and U.S. police service organizations and SCADA system reliant energy, public utilities and infrastructure firms.
"We have always viewed DRT Cyber as a platform from which to provide a comprehensive suite of innovative cyber security solutions that address high-demand, underserved segments of this rapidly growing market," says David Taylor, president and CEO of both VersaBank and DRT Cyber.

"The acquisition of DBG significantly advances our strategy for DRT Cyber, adding a well-established, trusted, reliable, profitable and rapidly growing security assessment business alongside our protection offering, VersaVault, the world's first digital bank vault. With this acquisition, now more than ever, DRT Cyber provides VersaBank's shareholders with additional upside to the already significant growth opportunity inherent in our core banking operations."
Digital Boundary Group employs about 50 people and has offices on Raney Crescent in London and an office in Dallas, Texas. According to Taylor, the Digital Boundary Group headquarters will remain in London and its existing ownership partners will stay on in the business.