Making sustainability fun
Workplace Green Up delivers an engaging and entertaining program to support sustainability ― at work and at home
IN ADDITION TO empowering businesses to set and achieve sustainability targets, Green Economy London aims to support sustainability in the work culture of their members. So, during the month of November, Green Economy London ran their first-ever employee engagement program, Workplace Green Up.
The program offered sustainability activities that could be done to reduce employee's environmental impact, and with many work-from-home policies in effect, activities were designed to be suitable for home and/or at work.
Activities focused on Green Economy London's four target areas: waste, water, environmental stewardship, and energy and emissions. With each week of the month focusing on a different target area, employees were challenged to incorporate sustainability into their daily work habits.
"Green Economy London's Workplace Green Up challenged and inspired us to find new and different ways to operate sustainably and continue being a sustainability leader" ―Ann-Marie Cooper
Participating businesses and organizations in the Green Economy London network included Play Away Indoor Park, Pillar Nonprofit Network, TRY Recycling, ReForest London, McCabe Promotional, Big Bike Giveaway and Convertus. Some organizations even had employees participating from offices across Canada.
Members submitted their activities through social media using the hashtag #WorkplaceGreenUp2020 and Green Economy London received an influx of creative submissions showing dozens of employees completing sustainability activities.
"As an organization, we take our environmental responsibilities seriously and continue to reduce, reuse and recycle whenever we can," says Monica Hodgson of Big Bike Giveaway. "The Workplace Green Up program helped us realize that the true power of greening is in 'the people'. GEL provided us with some truly thought-provoking activities that we executed with excitement and shared our successes on social media. Our team discovered new ways to reduce our carbon footprint simply by creating new habits in a more environmentally friendly way."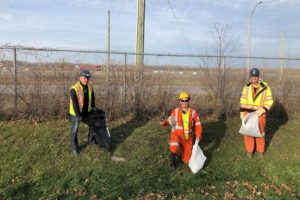 Convertus employees participating in a site clean-up
During the first week of the program ― Waste Reduction ― employees did things like recycle e-waste, start a compost, have a zero-waste lunch day and label collection bins to ensure proper sorting.
Week two focused on ways to reduce water use and conserve the resource, such as fixing leaky faucets around the house or office, repurposing water and installing a rain barrel.
The third week of the program was based on environmental stewardship and employees were challenged to use environmentally friendly cleaning products, create an eco-pledge board to set sustainability goals and green the coffee station.
The final week of the program ― Energy and Emissions ― offered employees activities such as calculating their carbon footprint using the Project Neutral calculator and adjusting the thermostat to the optimal 20 to 22 degrees Celsius when home and 17 to 19 degrees when away. The activities were all designed to reduce energy consumption and use it more efficiently.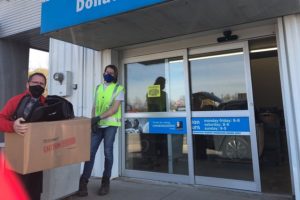 A McCabe Promotional donation to Goodwill 
Green Economy London members reported that the Workplace Green Up program was both a valuable and entertaining way to further their commitment to green operation and sustainability.
"Green Economy London's Workplace Green Up challenged and inspired us to find new and different ways to operate sustainably and continue being a sustainability leader," notes Ann-Marie Cooper, human resources and communications advisor with Convertus Group.
"The Green Up Challenge was such a fun and simple way to incorporate sustainable activities into our days," adds Natalie Kervin, business development coordinator at McCabe Promotional Advertising Inc. "We loved that it extended beyond our offices and engaged our team members at home as well."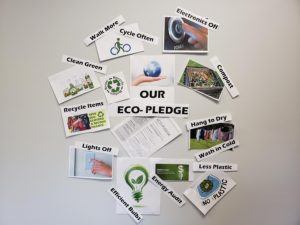 As the program demonstrated, whether the action is a small individual change or a large organizational commitment, they all contribute to the London Environmental Network's mission of making London one of the greenest, most resilient cities in Canada.
If you are interested in implementing practical changes at home or work that can improve your environmental impact and engage employees, check out Green Economy London's Workplace Green Up for inspiration.