Infused with herbs proven to deliver health benefits, Cafézia Coffee promises a caffeine punch without the pitfalls
Photo: Natalie White, owner of Cafézia Coffee
ENTREPRENEURSHIP IS OFTEN about building a better mousetrap. For Natalie White, owner of Cafézia Coffee, that means helping people brew a better cup of coffee. One that tastes better because it starts with premium organic beans roasted right here in London by Heritage Coffee. And one that is better for you because it is enhanced with three herbs traditionally used to promote good health.
Entrepreneurship is also about being in the right place at the right time. And for White, that meant being part of the same trail-running group as Dr. Tomas Dobransky, a London-based neuroscientist whose research includes studying the impact of nutrition on the brain.
Click here to view this story in magazine format
One day, Dobransky mentioned a coffee he had invented, a brew that delivered the welcome jolt of energy without the jitters, indigestion or interrupted sleep often associated with caffeinated beverages. White fell in love with the coffee at first sip.
"I've always been passionate about sustainability and putting people before profits. That's been guiding all of my decisions as a business owner" ―Natalie White
"He mentioned that he was looking for someone to run the business," recalls White, who graduated from Ivey Business School with an HBA and a Certificate in Sustainability in 2017.
The timing couldn't have been better for White. In May of 2019, the 25-year-old left her job as a business lecturer at Ivey and went into the coffee business.
When she took over, White had a great product but not much else. "I just picked up the phone and started making retail cold calls," she says. That led to in-store tastings and a growing number of loyal coffee drinkers. Today, Cafézia Coffee ― available in Dark, Medium and Light Roast ― is found at more than 50 retail stores in the London area, including Angelo's Italian Bakery & Market, Remark Fresh Markets, two Sobeys and multiple Foodland locations.
Story Continues Below
It's one thing to win consumers over with a steaming cup of organic fair trade-certified coffee. It's another to convince them that the addition of three herbs ― cleavers, hyssop and yerba mate ― minimizes the downside of too much caffeine.
"That's the biggest hurdle I've had to face, and the best way to overcome it is through the demos and word of mouth," says White.  "When people try it for themselves or hear it from a friend, they know it's not a gimmick."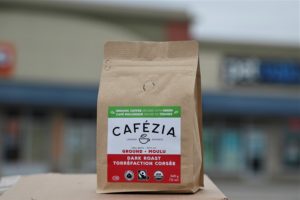 With the pandemic putting an end to in-store tastings since mid-March, White has had to find new ways to spread the word. Cafézia lovers can now buy their beans directly from the company website, and White recently brought on Ali Aamir as brand manager to help run Cafézia's social media accounts.
Apart from Aamir, White says the business is still very much "a one-woman show." Her next goal is to find a distributor to help take it to the next level. "One person obviously can't do it all," she says.
No matter how big Cafézia Coffee grows, one thing that won't change is White's commitment to the environment. "I've always been passionate about sustainability and putting people before profits," she says. "That's been guiding all of my decisions as a business owner."

Nicole Laidler