Downtown London launches free online shopping site for core businesses
WITH THE PROVINCE going back into a strict (if confusing) lockdown scenario, the push is back on to support local businesses in anyway possible. Up against online shopping behemoths like Amazon, this isn't always easy for small retailers, so to help out, Downtown London has launched their Online Marketplace — a "one-stop-online-shop for supporting local businesses."
"We receive so many messages on social media from Londoners saying that they want to support local business but aren't sure how to buy online from them or wish they could see all of the stores in one place," the association says.
Story Continues Below
For businesses hoping to participate, Downton London pitches the marketplace as an easy alternative to going it alone and setting up an online store yourself. "Skip the hassle of dealing with e-commerce platform providers and ironing out kinks with big corporations like Shopify," reads Downtown London's website. "Downtown London will deal with this on your behalf."
The platform is free for businesses looking to sign up, and Downtown London says they plan on "marketing this platform like crazy."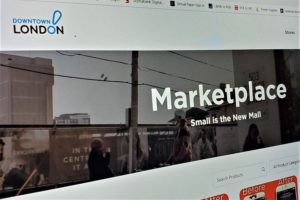 So far, much like the in-person shopping malls the platform is meant to emulate, there's a decent range of shops available, from restaurants selling gift cards and retail products, to a wax bar to Grooves Records.
It's also a decent way, the association says, for a company to get its name out there. "Even if someone doesn't make a purchase the first time, they see your store. They will remember you later when they are looking to make a local purchase."

Kieran Delamont