A view from the Clubhouse
Clubhouse is the new hot app, but can it help you grow your business? Local realtor Justin Konikow says it can
EVERY NOW AND then, a new app takes off, attracting interest, activity and users in leaps and bounds. The latest of these, called Clubhouse, is an all-audio chatroom — kind of like a party line, in the old days of the landline phone — where users can pop in and out of 'rooms' organized around a topic, listening to experts and enthusiasts riff about pretty much any subject under the sun. Maybe you want to talk about fixing vintage cars, or sci-fi films or doing real estate deals; chances are there is a Clubhouse room for whatever it is you're interested in. 
For businesses and entrepreneurs, Clubhouse is quickly developing a solid reputation as a place to network and as a tool for growth and marketing. One function of the endless variety of rooms is that users can talk directly to other people in their industry, learn from panels of relevant experts and then connect further, away from the app.
An audio-only platform, many people liken Clubhouse to an interactive, live podcast (another medium that has gained massive popularity in the business and entrepreneurship sectors), or like being able to eavesdrop in on conversations between the top experts in their field. And because the app is new (and has a limited user-base, being invite-only and currently only available for iOS) Clubhouse's many new devotees often find that it is conducive to more human, authentic connection when compared to older platforms like LinkedIn and Instagram that can be bogged down by masses of low-quality content and metrics that are constantly being gamed. 
"There's no vanity metrics. I'm seeing real results from it that are more tangible than spending $14,000 on a bus ad. I think it's going to be one of the best curated platforms out there" ―Justin Konikow
Justin Konikow, a London real estate broker and owner of Prime Real Estate Brokerage, is a Clubhouse convert, and has been using the app consistently for the last few months. "I'm skeptical by nature," he says, adding that when he first got invited to the app he thought, "this could be really good, or really bad — who knows." 
But once he settled into the rhythm of the app, he started to see how much potential it could have for businesses and entrepreneurs to grow their brand and grow their network. 
"The human connection is a real thing," he says. If podcasts let listeners eavesdrop on interesting conversations, "Clubhouse is that, but on steroids" — eavesdropping, hosting and interacting, all rolled into one. 
Story Continues Below
Konikow, who says he's been quickly collecting new clients, connections and referrals through the app, says it's like any other social media platform, where authentic engagement is rewarded more than trying to play the algorithms to produce instant results. "You have to use the tool, not let the tool use you," he says. 
To that end, Konikow says he sees business owners using the tool effectively in lots of ways. Some are simply tapping into the insights of experts by listening in on Clubhouse rooms. Others host their own rooms (Konikow hosts two rooms every day, one that's London themed and another that's real estate themed), thus bringing the experts to them and sharing those conversations with other users.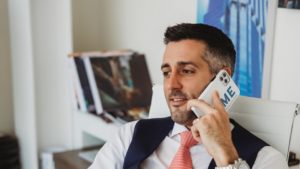 Justin Konikow, owner of Prime Real Estate Brokerage
In its nascent stages, people are finding all sorts of interesting and new ways to connect with one another. The common thread that unites these successes, Konikow says, would seem to be an unpretentious approach. 
"There's no vanity metrics," Konikow says. No likes, no retweets, nothing like that. "I'm seeing real results from it that are more tangible than spending $14,000 on a bus ad. I think it's going to be one of the best curated platforms out there."
And, perhaps the best part for our Zoom-fatigued world, "you don't have to be dressed for success," he says. "You don't have to be camera ready." 
Experts see a lot of potential in an app that seems to be successful where so many other social platforms fail ― in making users feel enriched by the platform, not subsumed by it. People, or now, anyway, are coming away from Clubhouse rooms having learned things and connected with people in their field, something that few can say after spending two hours on Twitter or Instagram. 
Story Continues Below
"Make it your goal for participants to walk away from the conversation thinking, 'Wow, I really got a lot out of that,'" writes R. Kenner French, a small business consultant writing in Forbes. "The exciting thing about the app is that every chat room is a living being, and you're never quite sure where the conversation will take you. Go all in, and see how you can learn new skills, offer valuable information and gain interest in your business." 
The app still has a very limited user base — Konikow admits that it's a bit of a "land-grab" right now — so some of the benefit may wane as the app gets overpopulated. But while it's still hot, there is lots of potential to tap into it as a resource for your business. 
"My experience on the platform has been great from a business perspective," says Konikow. "I get better at my job being on it."

Kieran Delamont