Advanced biogas from London's StormFisher facility is powering Ontario's first carbon-negative bus
The City of Hamilton is operating Ontario's first RNG-powered gas with fuel supplied by London-based StormFisher
A NEW PARTNERSHIP between the city of Hamilton and Enbridge Gas will see Ontario's first carbon-negative city bus hitting the road — and it's going to be running on renewable gas produced here in London.
The bus (singular, so far) runs on renewable natural gas (RNG) produced at the StormFisher facility in the city's south end from "the gaseous product of the decomposition of organic waste from homes and businesses, that has been processed into green fuel."
By running on this advanced biofuel, the bus is expected to divert 450 tonnes of organic waste from landfill, as well as displacing the emissions from burning 36,000 litres of diesel fuel.
Story Continues Below
"We are excited to work with the City of Hamilton and Enbridge on this transformational initiative," says Brandon Moffatt, vice president of development & operations at StormFisher Ltd. "The use of renewable natural gas as a carbon-negative fuel for public transit is a great example of the steps that need to be taken as we move forward into a net-zero carbon future and supporting economic development and jobs in Ontario."
The London StormFisher plant is one of just over 100 RNG-producing facilities in North America.
For many municipalities, RNG fuel technology holds a lot of promise as an alternative to electric buses, which are expensive and can pose logistical challenges for cash-strapped municipal transit agencies. RNG-powered buses achieve the same environmental goals, as the whole supply chain for an RNG-powered bus, from fuel production down to the operation of the bus, is carbon-negative. In addition, buses running on RNG cost about half of what an electric bus costs, can fuel up in minutes rather than the hours it takes to recharge a city bus and run just as efficiently as traditional diesel buses.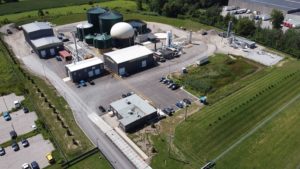 StormFisher's London biogas facility at 1087 Green Valley Road
It also marks a positive development for the growing RNG industry — a successful pilot program here could pave the way to more transit agencies shifting towards RNG-powered buses in pursuit of emissions reductions, and the wider use of RNG throughout other parts of the energy grid.
"HSR is proud to have led the transit industry as an early adopter of natural gas to fuel a significant portion of our buses," says Debbie Dalle Vedove, director of transit at Hamilton Street Railway. "By leveraging RNG, we're continuing our legacy of being one of the greenest transit fleets in Ontario and Canada."
Story Continues Below
According to HSR, the new RNG bus will use and divert 450 tonnes of organic waste from the landfill.
"The HSR is a prime example of a major transit authority recognizing the environmental benefits and financial value of RNG," said Cynthia Hansen, President of Enbridge Gas. "We're pleased to support their efforts by supplying RNG, a cleaner fuel option that will help fight climate change in the region."

Kieran Delamont