First developed as an internal diagnostic tool, a new app from Start.ca helps customers help themselves
Photo: Start.ca vice president of customer service, Emily Ferreira
WE'VE ALL HAD this problem before: the wi-fi is on the fritz, and it's not exactly clear why that's the case. Maybe something got unplugged, maybe a setting got changed, but you're pretty sure you could fix it … if only you knew what the problem was.
Well, local internet services firm Start.ca has the app for you.
The recently released app is called StartCARE, and it got its start as an internal tool for Start.ca employees. Developed by Kitchener-based RouteThis, it was first developed for customer service representatives who handle troubleshooting calls — a basic diagnostic tool that could scan the wi-fi network, run a check for the most common problems and bring forth the suggested solution, which the rep then guides the customer through.
Read this story in magazine format here
And then the company realized: why not give people the app?
Story Continues Below
"When we saw the impact that the lockdown restrictions had on home internet use, the app was quickly identified as a useful tool," says Emily Ferreira, vice president of customer experience at Start. "It's an opportunity for them to do DIY fixes that could eliminate the need for them to call in."
Our home internet usage has changed dramatically in the past 12 months. A lot more rides on it now: work calls, remote networks and children's educations — all now depend on the reliability of home wi-fi.
"Our approach is to make sure that we are offering a service that meets the demands of the customer, when and how they want it. If a customer wants it in a DIY fashion, we've got to be able to support that" —Emily Ferreira
"[Increased service calls] was one of the things that we saw with so many individuals using internet services with the pandemic," says Ferreira. "Being able to put an app in the hands of our customers gave us the ability to eliminate the need to handle those customers who felt like they wanted more of a do-it-yourself option."
That, in turn, freed up more time for their reps to work with customers who did need more help, reducing wait times, freeing up representatives and generally making everything run smoother.
As internet technology expands throughout our homes, into our fridges and laundry machines, and as the range of hardware options extends, enabling a more DIY maintenance system would seem to make a lot of sense. As more things rely on the system, more are liable to drop off now and again. For internet providers who want to develop a reputation for reliability of service, putting the tools in the hands of customers is a smart — and efficient — way to go.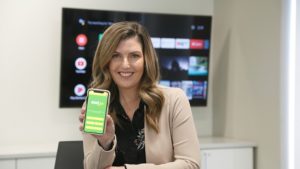 "Our approach is to make sure that we are offering a ­service that meets the demands of the customer, when and how they want it," Ferreira says. "If a customer wants it in a DIY ­fashion, we've got to be able to support that. If they want to be able to talk to a representative, that's why we also pride ourselves on having reps that talk to you like a friend or a family member — something that's really unique to Start, and something we will never change."
Story Continues Below
This, Ferreira observes, is the way the world is going. "We all live in an extremely fast-paced world. Everything from paying your bills faster to adding a new TV channel — being able to do that on-demand with relative ease is the way customers are going to want their services to exist. Being able to be very flexible and responsive to what our customers are asking for is where we need to be."

Kieran Delamont