With so many uncertainties today, expanding your company's brick-and-mortar footprint right now might seem genuinely bizarre. Veronica Hosszu of Elizabeth Noel disagrees
Photo: Elizabeth Noel owner, Veronica Hosszu
AFTER 52 YEARS in the event wear business, Elizabeth Noel wasn't going to let a little thing like the global pandemic slow them down. While many other clothing stores turned their focus to online sales, London's premier gown shop doubled its brick-and-mortar presence by moving to a new location — smack in the heart of Dundas Place.
"At first we were looking at suburban areas, because everyone always moans about parking," says Elizabeth Noel owner, Veronica Hosszu, who began working at the boutique in 1987 before taking the reins in 1992.
To view this story in magazine format click here
Then realtor Eavan Travers showed Hosszu a space previously occupied by The Honest Lawyer. With Petrov Bridal Boutique and Garber's Bridal just down the road, Hosszu decided Elizabeth Noel had found its new home.
Story Continues Below
It took a clear vision and an extensive renovation to transform the former bar into an upscale gown shop. Today, the 6,400-square-foot-space boasts an exposed brick wall and high ceilings that hearken back to Elizabeth Noel's first home on Richmond Row.
"I love that vintage, shabby-chic aesthetic," says Hosszu, who describes the boutique's open-concept design as a "blank canvas" where her impressive collection of glittering gowns can take centre stage. A comfortable sitting area and 11 spacious dressing rooms — featuring full doors in a nod to Covid-19 protocols — are tucked away in a private area at the rear.
Elizabeth Noel carries 35 brands, making its selection of formal wear and prom dresses one of the largest in Southwestern Ontario. "We are the only store from Toronto to Detroit that can carry Jovani. They are an incredible brand and very well-known internationally," Hosszu notes.
The new location officially opened on December 22, just in time for Ontario's second lockdown. But if you think Covid-19 killed the demand for event wear, you'd be at least partially wrong.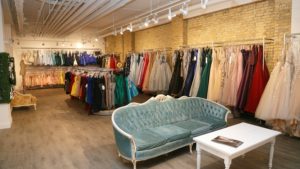 While there were certainly fewer weddings, black-tie events and holiday parties to dress up for over the past year, sales of prom and grade-eight graduation dresses remained strong despite the pandemic.
"The truth is, prom is the occasion, but it's not the event," says Hosszu. "The girls are so resilient and came up with some great solutions."
For example, many attended multiple, small gatherings to celebrate their graduation milestone, says Hosszu, who offered virtual appointments and personal shopping appointments (when restrictions allowed) to help her #ENoelGirls find the perfect outfit for their big day.
Story Continues Below
"The girls wanted their special moment. They wanted to be with their core friends. They wanted that incredible feeling of getting dressed and getting ready. And they wanted the photo, because social media is such an important part of their lives," she says.
Social media is also an important part of Elizabeth Noel's marketing mix. "Our demographic is not really on Facebook," notes Hosszu, "but we do quite a bit on Instagram and have started doing TikTok. A lot of our content is from clients, which we love. We want to put real girls out there, and not just professional models."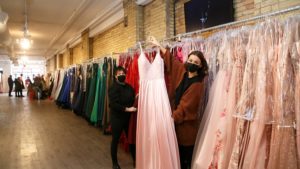 Photo: Elizabeth Noel's Stefanie Smith and Sierra Barton
Interestingly, while a strong online presence has been key to maintaining sales over the past 12 months, there remains no plans to launch an online store.
"There are a lot of knock-off dresses online. Every year we unfortunately see girls who have bought a fake," Hosszu explains.
When it comes to high-end gowns, she continues, nothing can replace the in-store shopping experience. "It really is about seeing it, feeling it, trying it on and working with a salesperson who can help create your vision."

Nicole Laidler