So You Want My Job: Technology Entrepreneur
Christian Munoz, founder of IT solutions firm Techdoz, chats about the role of trust, the hybrid workplace model and getting to those dust bunnies under the couch
Photo: Christian Munoz
CHRISTIAN MUNOZ FOUNDED Techdoz, a managed IT service provider, a decade ago, operating from his dining room table. Back then, he was "a break 'n fix business," rushing to fix computers when they crashed. After a few years, he repositioned the company to focus entirely on managing IT needs of commercial clients. Its first managed client, Sundance Balloons, is still with him. He employs seven people.
To read this story in magazine format click here
Munoz, 36, has lived in London for 30 years; he attended Regina Mundi College and then Fanshawe College. Two years ago, he visited Amsterdam and Italy on separate trips. His 2020 Berlin trip is waiting for the pandemic to subside.
Congratulations on your tenth anniversary. Pandemic aside, how has your business changed over the decade?
Thank you, and it still amazes me each day how it all started. I still can't forget fixing computers on my dining room table, or having various staff coming and going through my home before we moved into our first office. I think at one time we had an eight-foot server rack delivered to my house. I learned how to patch drywall pretty quickly after that day. We were working crazy hours but loved every minute of it. As much as I miss those days, the biggest change was when we started focusing on IT outsourcing for ­businesses, setting our sights on being a true managed IT provider. This presented new challenges and obstacles, but we succeeded and not longer after came the growth to where we are now. It's been a wild ride.
Story Continues Below
Do you have a typical client? Do you cater to small- and medium-sized businesses primarily?
Every client and the challenges they face are unique, making a definition of a typical client hard to ­pinpoint. We have been very lucky because the clients we work with have the same mentality as us when it comes to technology: the belief that a business should have a proper technology foundation that allows for scalability and adaptation — technology that works for the ­business, not the other way around. We cater to businesses of all sizes, from a law firm one day to an agriculture farm the next.
Every managed IT company promises personal service and hands-on solutions. How is Techdoz different? Or is it?
You have to design solutions that are unique to a client, and that requires an understanding of their business and how it works. But that only gets you so far. There needs to be trust. Our clients trust us with the business they have built. They are putting their trust in the solutions we recommend for the success of their business. You need to be able to connect, be part of the team, part of the family. You don't simply introduce a new solution and walk away; you need to be there every step of the way. A year ago, I flew to Ottawa to onboard a new staff member for one of our national clients. I spent the time setting up their office at home, trained them on their laptop and software. We could have easily shipped items out and done it remotely, but where is the connection in that?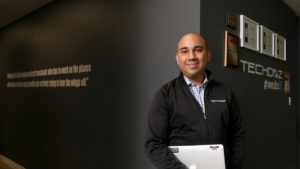 Okay, Covid. I assume it has changed how you operate your own business, but even more so what your clients are asking from you. What are your three biggest adaptations?
You know how much I miss shaking someone's hand? Or just simply to catch up with a client over a coffee? I wish I could spend less time on the phone and more time visiting people at their business. Covid has really changed the way Techdoz does business. Work from home was the big one. Helping shift numerous clients at the same time in a secure manner while still providing one-on-one training with each employee was a challenging time but we were successful. Pre-Covid, we were developing strategies to transition clients to cloud services. Covid accelerated our strategies from a year or two to just a few months. Now we are at 95 per cent of our clients being cloud-based, giving their staff freedom to work anywhere. Cyber attacks, malware and ransomware were already daily challenges, and Covid lit a match on it all. But we were ready. Through the transition, the focus was always security. Solutions were designed to allow the work-from-home scenario to function while ensuring the proper safeguards were in place. But all the security in the world is useless without proper training. We were aggressive in our approach to security, making our clients and their staff technologically aware to better protect their businesses.
Story Continues Below
What's your best guess about changes that will become ­permanent post-pandemic?
Working from home will not ­completely go away, but there will be a hybrid version of it — the ability for an employee to choose to split their time between the office and at home. Work environments are social environments. As productive some can be working from home, it comes with loneliness and lack of connection. No amount of video calls or phone calls can replace a positive workplace that allows you to connect with others. The role models, mentors and water-cooler chats are valuable parts of any job. I couldn't imagine the disconnect when starting a new job in 2021 and your only link to others on your team is through a laptop.
What's your favourite non-­business tech, something you use at home?
Roomba, hands down! I'm a pretty clean and organized person, but there are times I fall behind on cleaning under the couch. And I will be honest, I have dressed it up a few times. Currently it looks like a shark with a gray fin and googly eyes.

Interview by Christopher Clark