Rent-To-Own specialists JAAG Properties expands to a new head office in the heart of downtown London
Photo, back from left: Ryan McTavish, Alfonso Salemi, Adam Wissink, Cheryl Campbell, Jeremy Wissink. Front from left: Rachel Nieman, Karen Joice
JAAG PROPERTIES IS no stranger to new homes — the Rent-To-Own firm has been putting people in their new dream homes since 2014.
Now, it's their turn, as the local firm is officially open their new head office at 440 Wellington Street in the heart of downtown London.
It's not the first time that the company, founded in 2014 by Adam Wissink and Alfonso Salemi, has needed more spacious accommodations. After a single pitch email brought the two together into a joint venture, the business ran out of a small home office in Wissink's house for its first four years of operation, only moving to office space in 2018.
In 2019, they hired their first employee and launched satellite offices in Burlington and Ilderton. And now, with eight staff members and ambitions to grow even further in the coming years, they were ready again for some upgraded digs.
And it's a feeling they know well. For the past seven years, JAAG properties has been bridging the housing divide, acting as a partner to help individuals who might not qualify for a traditional mortgage — the self-employed, those repairing their credit, people unable to save a full down payment and the upstart professionals — get on track to owning a home of their choice.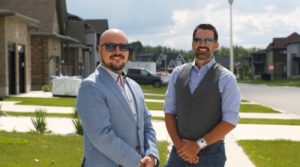 JAAG Properties founders, Alfonso Salemi and Adam Wissink 
"Getting approved for a mortgage these days can be a real challenge, especially with housing prices constantly on the rise," explains Wissink. "Unless you're rolling in cash, that's a lot of money to have to come up with in order to purchase a home. Moreover, a lot goes into getting a mortgage. Lenders look at a number of factors when they're assessing a borrower for a mortgage such as a sizeable down payment, a good income and, of course, a favourable credit score."
While the Covid-19 pandemic has thrown a curveball at prospective homebuyers and has presented a challenge for anyone trying to buy or sell, it has also served as a testament to the durability of JAAG's business model, as well as their exceptional staff who guide the process from start to finish.
"JAAG has continued to excel through this pandemic, and it is easy to recognize why a proven and reputable Rent-To-Own company is so attractive in today's home-owning market," says Wissink.
"A true alternative that has always aimed to break through traditional barriers, JAAG is able to provide the chance at homeownership or real estate investments to everyone."
---
This story was created by Content Studio, TreeTown Media's commercial content division, on behalf of JAAG Properties.