Almost 30 years after opening, Herm's Sport Exchange expands, adding a second retail store at Western Fair Sports Centre
HERM'S SPORT EXCHANGE, a fairly iconic name in the local minor hockey scene, is opening up a pro shop in the Western Fair Sports Centre.
Since opening in 1992, Herm's has been a recognizable name in London's hockey supply circuit; there are many in the city, members of the London Inc. masthead included, who have worn a pair of skates, had them sharpened, or grabbed a stick from Herm's at one point or another.
Story Continues Below
And this past weekend marked the opening of the new retail outlet at the four-rink sports centre. The company says they "intent to bring the retailer's expertise and customer service within easy reach of the centre's minor and amateur hockey teams and players."
"Western Fair District approached us to see if a relationship was possible, says Jim Stephens, one of the ownership partners at Herm's. "Given that the Western Fair is one of the premier hockey facilities in Southwestern Ontario, with three NHL-sized iced surfaces, one Olympic-sized rink and training facilities, we were more than excited to do it."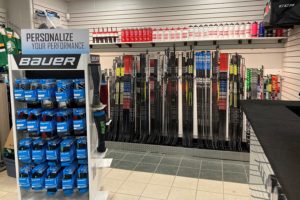 This is the first expansion store that Herm's has ever had, coming nearly 30 years after opening their main location at Wharncliffe and Southdale, where they still operate today.
"We're excited to welcome such a well-established local company like Herm's Sports to our sports centre," says Craig Goyetche, business manager at the arena. "We know our customers and visitors will be impressed with their passion and expertise when they visit Herm's Pro Shop."
Story Continues Below
Even though the pandemic has laid a beating on retail stores, Herm's is confident that their niche is specialized enough that people will still want to come shop there. Enough of their services are still highly specialized, mostly relating to profiling one's skates, that it becomes somewhat online-shopping resistant.
"What this comes down to is our ability to offer customers a superior level of personal service in a game where millimetres and inches matter, whether it's skates, sticks or pads," Stephens says. "And, Western Fair's ice pads are the busiest hockey destination in the region."
The shop will be open on weekdays from 5 p.m. to 10 p.m., and 9 a.m. to 8 p.m. on weekends, lining up roughly with the busy time at the rinks.

Kieran Delamont