Local femtech startup aims to empower people's birth control decisions
FOUNDER AND CEO of Reya Health, Dallas Barnes, learned first-hand that finding a birth control regime that worked for her could be difficult. It entailed a lot of guesswork, trial-and-error and not a lot of support.
That experience inspired the creation of Reya Health, a platform that helps people take control of that decision and, hopefully, match them with something that works for them.
"I wanted to take what I learned on my own journey and be able to help others through their experience," Barnes told TechAlliance. "With Reya, we are providing personalized information and support for individuals so that they can make informed decisions for their own health and be confident and comfortable with their birth control options."
Story Continues Below
The platform was designed to use a decision tree that helps match people to a birth control that fits their needs, and includes tracking functions that allow people to keep on top of any changes they experience with their birth control. Barnes worked with family physicians, OBGYNs and naturopaths to create something that — while it can't replace a medical professional — can return some feeling of control to someone going through the process of choosing birth control.
Reya Health fits nicely into the growing industry of femtech — platforms, apps and services that help people with things like period tracking, ovulation and fertility apps, and more. There are even digital contraceptives, like the app Natural Cycles, that have been given FDA approval as a form of contraceptive. All told, it's estimated to be a $50 billion market in the next five years.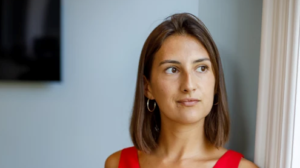 Reya Health founder and CEO, Dallas Barnes
"More women using femtech to help them avoid pregnancy is mainly surged on by the fact that they have a dissatisfaction with the current options available to them," Holly Grigg-Spall, an author who has written about birth control, told Best Health.
"Inclusivity is at the core of what Reya does, because everyone is unique," says Barnes. "Every journey with birth control is different, and Reya's whole premise is to put the users and their health at the forefront of this process and at the centre of their own decision making by meeting them where they're at."
As Reya gains users, it has also formed a community of "thankful and helpful customers who are able to find comfort in sharing their experience."
Story Continues Below
In the early days, Reya was run on the backend by humans — team members being involved in consultations, surveying and matching. As it develops, Reya plans to make more of this process automatic and algorithmic. Currently, consultation and suggestions are automated, but tracking symptoms and side effects still requires human interaction. They hope to soon change that and automate the entire process to put more of the control in the user's hands. Eventually, they want to turn this into a mobile app (currently it runs on the web.)
Right now, Reya Health is operational in Canada, but Barnes says that she hopes it can be "the go-to platform for personalized health information for everything birth control, sexual health and family planning on a global scale."

Kieran Delamont, with files from Quinn Palmer of TechAlliance