EXAR Studios notches new awards
EXAR Studios picks up two best-of awards at Long Beach Augmented Reality Festival
Photo: The Long Beach Augmented Reality Festival was held last month in Long Beach, California
THE TEAM AT EXAR Studios, a local digital tech company that specializes in augmented and virtual reality, is at it again — this time taking home the top prize from the first-ever Long Beach Augmented Reality Festival in California.
For their entry into the festival, EXAR Studios brought to life The Singer ― a popular black-and-white mural that, through EXAR's image recognition and augmented reality tools, was made to sing and dance to different musical decades.
Story Continues Below
The user could play around with the mural through Instagram — selecting which decade and musical style, and layering on instruments as they pleased. For this effort, they won both the top prize for Best Image Recognition Effect as well as the Best in Show award, beating out sixteen other international teams for the top honours.
According to EXAR, over 400 people have already tried out the installation.
EXAR has worked a lot with museums and heritage departments, including an augmented reality app they launched in conjunction with the St Thomas Elgin County Museum, and an interactive AR exhibit at the Banting House. Similar to their virtual installation in Long Beach, EXAR also created Engage ARt, a series of fun AR features scattered around downtown St. Thomas.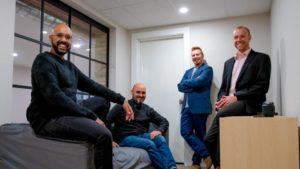 Photo: EXAR Studios' Shishir Pande, Edward Platero, Daniel Kharlas and Ben Switzer (file photo)
It's not EXAR's first award for their work in augmented reality ― earlier this year, company founder Edward Platero was awarded Best Music Video at the Cannes World Film Festival for their studio's work on a music video for Mappe Of's concept album The Isle of Ailynn.
Story Continues Below
"This experience made me understand why we've lost James Cameron to making five Avatar sequels," Platero said at the time. "The ability to use virtual reality as a creation tool has opened my eyes to what this new world can be, and it is an artist's dream."

Kieran Delamont