Helping small businesses provide better HR
A new offering from HRdownloads puts a suite of HR products and services into the hands of small businesses at an affordable price
THE LONDON TECH company HRdownloads is launching a new service targeted at small businesses, offering a suite of HR products and services at an affordable price-point.
Dubbed HelloHR, the company describes the service as "the support of a team of HR experts, starting at just $99 per month."
Story Continues Below
The platform is meant to appeal primarily to small businesses who, in the wake of the pandemic, may be facing any number of HR-related challenges, including additional hirings, restructurings and changes to business models.
"We recognize that not every business has the resources or budget for an HR department," says Tony Boyle, CEO of HRdownloads. "Many organizations struggle with understanding their legislative obligations, especially through the pandemic, which put additional uncertainty and pressures on all businesses."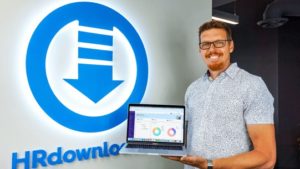 Photo: Tony Boyle, CEO of HRdownloads
Founded in 2008, HRdownloads has become a leader in practical human resources solutions for business owners and HR professionals. The firm delivers complete bilingual support in every jurisdiction, across multiple industries, to thousands of Canadian organizations. Their tech-based solutions include documentation, live HR support, online training, surveys and other services all designed to make HR processes more streamlined and less of a headache for businesses.  
Story Continues Below
HelloHR, as a service, bundles many of those offerings and also allows a small business to tap into the labour of a team of HR professionals as well. HelloHR includes a customized HR plan developed for an organization, core HR services to make sure the business is compliant, and unlimited access to the HR documents, templates and resources that the service has traditionally offered.
"With HelloHR, you are essentially hiring a team of HR professionals who will support you in building a solid HR foundation emphasizing legislative compliance at an entry-level cost," says Boyle. "Let us do what we love, HR, so that you can get back to loving what you do."

Kieran Delamont