Adding a second location at CF Masonville Place, Thaifoon has a vision — and ambitions to match
Photo: Thaifoon owner, Fouzan Beg
MAY 2020, HEIGHT of the pandemic, and Fouzan Beg saw an opportunity.
The owner of Thaifoon, a popular Thai restaurant on Dundas Street, had heard the news that the South African-founded chicken chain Nando's would be closing 21 of their corporate-owned locations in Canada, including the location at CF Masonville Place.
Click here to read this story in magazine format
"Right away, I took my son — we didn't even have breakfast. I said, 'Buddy, you gotta come with me, and I took him to Nando's," Beg recalls. "I asked him for his opinion. 'What do you think, should we come here?' And he said, 'Yeah, let's do it.'"
Out of the mouths of babes.
Story Continues Below
Call it a next chapter, then. Founded in 2005 by Eddy Phimphrachanh, Beg took over ownership of Thaifoon on May 1, 2014. At the time, he said to himself, "I will do this until May 1, 2020. Okay. Six years."
Then the pandemic rolled around, forcing several franchised food operators to put the brakes on expansion, revisit their business models and, in cases such as Nando's, shave their operations.
Of course, all of this also ended up putting some prime locations on the market. And for Beg, it wasn't much of a stretch to see what the Masonville Place unit could become. "It started as just a vision, really. To rebrand it, to renovate it," he says.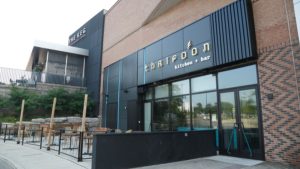 "We have so many guests that come downtown from the north end, and downtown is being so developed with high-rises, that's why I felt like it may be an opportunity. I remember saying to myself, 'I think I have something here.'"
For Beg, that "something" was the opportunity to step up from being a single independent restaurant operator and to bring the Thaifoon brand to a new level. He says the unit he has created in the north end is "elevated, in the sense that the space has better finishes and the vibe itself is a little bit more polished looking."
And while uniformed chefs in a visibly professional kitchen might seem like a unexpected addition to a mall setting, the move away from food-court offerings to casual dining and higher-end eateries at malls is a trend taking hold globally.
For Masonville Place, adding a character player like Thaifoon is another way of differentiating the consumer offering, with a focus on experience
"When it comes to the experience of food choice in the mall, a renaissance is coming," reads a report by Deloitte titled The Future of the Mall. Operators (Toronto-based Cadillac Fairview Corp. in the case of Masonville Place) are increasingly looking to team up with places just like Thaifoon — spots that bring a unique, local quality to mall spaces, which can often feel quite interchangeable.
At Masonville Place, the move in this direction has been on display for a while now, with the addition of upscale chains like The Keg and Milestones, as well as the entertainment destination The Rec Room. Adding a character player like Thaifoon is another way of differentiating the consumer offering, with a focus on experience.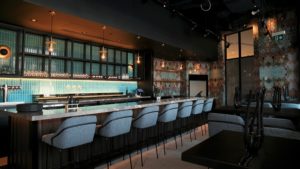 "Smart mall owners are viewing food-and-beverage venues as the new anchor that will enhance their destination appeal," Deloitte writes. "The next generation of food options in malls will bring us exciting innovations."
"It's like moving from a small business to a small business that does it in a bigger way, and a bigger way has to have that bigger structure," Beg says.
But that bigger structure, he points out, is also looking to become more of a community hub. Which means in addition to the bigger players — those chain operations that for years have dominated the mall and suburban scene — the door is opening for smaller independent operators.
Story Continues Below
"They're all corporate," Beg says of most of dining options in the city's north end. "There's not many options of small, family businesses, London-made. There hasn't always been much that felt super unique to London."
It's obvious Beg wants to get it just right. It's a big step, and not one without significant financial demands and risk. But those six years were up, and so it is, after all, time for his next act.

Kieran Delamont