Promoting skilled trades as road to success
JA South Western Ontario, along with JA chapters across the province, will bring skilled trades and technology exposure into the classroom via a new interactive online event
IN AN EFFORT to make the skilled trades a more attractive pathway for high school students, Junior Achievement (JA) South Western Ontario is teaming up with JA chapters across the province to host a one-day virtual career symposium next week to connect students with industry pros.
Called "Building a Stronger Future", the event is described as "an interactive, online experience that introduces high school students to the fascinating skilled trades and technology sectors, and gives them an opportunity to hear directly from industry experts."
The event runs from 9:30 a.m. to 2:30 p.m., ostensibly meaning that it will be offered through the schools.
Story Continues Below
"We're so excited to be reaching high school students in this new way," says Karen Chafe, director of programs and operations for JA South Western Ontario. "We're bringing the JA expertise in entrepreneurship to these high-demand fields and opening up a new world of opportunity to young people in the province."
The event stems from a $440,000 investment announced by the provincial government in June in partnership with JA, that will see the non-profit hosting a variety of workshops and training programs meant to boost participation in the trades.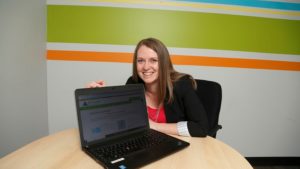 Karen Chafe, director of programs and operations, JA South Western Ontario
Speakers at next week's event include Chris Campbell of the Ontario Carpenters Association, Elizabeth Moses, a machinist at Harbour Technologies, and a chance to participate in virtual career booth meetings with reps from businesses like Aecon and colleges including Seneca, Durham and Algonquin.
"There are exciting skilled trades and technology careers waiting for young people today and there will be even more as current workers retire in the years to come," stated Monte McNaughton, Ontario's minister of labour, this past summer. "This investment is part of our strategy to break the stigma that still surrounds working in the skilled trades. We need to show students and their parents that becoming a tradesperson – a carpenter, a plumber, or an electrician – can be as fulfilling as becoming a doctor, lawyer or an engineer."
Story Continues Below
Analysts have pointed out that Canada is facing a shortage in skilled tradespeople — a shortage that will only grow larger, with more than 700,000 skilled tradespeople expected to retire by 2028.
According to RBC, "Canada will face a shortage of at least 10,000 workers in national recognized Red Seal trades" in the next five years — "a deficit that swells tenfold when 250 provincially regulated trades are included." The shortages are thought to be concentrated "among trades critical to the coming infrastructure boom, including industrial mechanics, welders and boilermakers."
Story Continues Below
This event is the first phase of the province's "Building a Stronger Future" investment and will be followed by a 50-hour training program for students who are interested in further education in the trades.
"From a modernized math curriculum that focuses on job and life skills, to mandatory learning on financial literacy and coding, our focus remains on giving young people the tools to succeed," said Ontario Education Minister, Stephen Lecce. "Our continued investments in the skilled trades, coupled with real-world learning, will ensure more young people enter and succeed in these dignified, well-paid, and often entrepreneurial vocations."
Students and teachers can register for the event here.

Kieran Delamont