Nuts For Cheese expands product range with its first seasonal flavour product release
A MADE-IN-LONDON LINE of vegan cheese is expanding its range of flavours, now offering a seasonal Cranberry Pink Peppercorn flavour — just in time for the holidays.
Nuts For Cheese, the vegan cheese company founded by 20 Under 40 alum Margaret Coons, has been on a tear in recent years, riding a wave of interest in non-dairy alternatives — a wave that was capped off by a recent announcement that they would be expanding their distribution into more U.S. states via a deal with Whole Foods.
Story Continues Below
Their latest product — described by business development manager Candace Campbell as a "stunning wedge with a sweet tang and bold pepper finish" — is the first seasonal flavour that Nuts for Cheese has released. It will be stocked at most major retailers, including Loblaws, Farm Boy, Sobeys, Whole Foods and a bunch of independent grocers, and will be on shelves through the fall and winter months.
"We're so excited to bring this unique flavour profile to market," says Nuts For Cheese CEO, Margaret Coons. "Our team perfected this recipe to create a tangy, bold taste and mild pepper finish that's perfect for holiday entertaining.
"Innovation is a key focus area as we prepare to launch our next product line ― Nuts For Cream Cheese ― in 2022" ―Margaret Coons
"We were thrilled when all of our major retailers opted in to carry this flavour ― it tells us we're onto something," continues Coons. "Rumour has it, this is one of our best flavours yet!"
Nuts For Cheese's most recent distribution expansion has seen them find shelf space in the Midwest United States.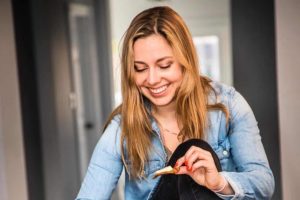 Nuts For Cheese CEO, Margaret Coons
"From a vegan kid wandering the aisles of a Whole Foods that felt like a total candy store, I am so thrilled to announce that as of today, our products can be found in Whole Foods Market locations in Michigan, Ohio, Illinois, Montana, Indiana, Kentucky, Wisconsin, and Minnesota," the company wrote in a September Facebook post.
Made with fermented cashews and vegan oils, the nut cheese line has proven to be a popular substitute for cheese, and the company's sales have reportedly grown 40 per cent, year-over-year. Last year, their Nuts for Butter line was named the most innovative product of 2020 by the Canadian Health Food Association.
Story Continues Below
New products are a priority for the company, which has been consistently rolling out new products in recent years. On top of getting praise for last year's Nuts for Butter line, the company says it is already planning on new products for next year, moving further into the cheese realm.
"Innovation is a key focus area as we prepare to launch our next product line ― Nuts For Cream Cheese ― in 2022," says Coons.

Kieran Delamont