Kristen Duever will take over responsibility for the London Chamber's advocacy and government relations efforts
THE LONDON CHAMBER of Commerce has announced that Kristen Duever has been appointed to the role of vice president, public affairs.
A 12-year veteran of the London Chamber, Duever will assume responsibility for the Chamber's advocacy and government relations efforts and will work closely with the Chamber's Government Affairs Committee as well as policy groups within the Ontario and Canadian Chambers of Commerce.
Story Continues Below
Duever will also take a lead role in several special community projects, including the StaySafe London program (providing Covid rapid antigen tests to small business) and the upcoming Like a Londoner Shop Local Campaign.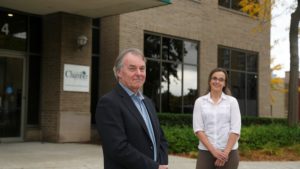 The London Chamber's Graham Henderson and Kristen Duever
"Kristen has played an incredibly valuable role in the policy arena for a number of years here at the Chamber," says Graham Henderson, CEO, London Chamber of Commerce, in a released statement. "As our new VP of public affairs, she will be able to concentrate her advocacy efforts in this area even further to the benefit of our business community."
Story Continues Below
Chamber board president, Ian Jeffreys, adds, "The London Chamber of Commerce has long been a leader in the Chamber network on the policy front. And with Kristen heading up our policy efforts, our reputation for excellent advocacy work will be well protected."
While oversight of the Chamber's communications will still be among her responsibilities, the Chamber is in the process of onboarding a manager of digital media and communications, a new role that will report to Duever.