Trading pixels for brushes, award-winning graphic designer Jason Recker takes a pandemic detour ― and unleashes an entirely new venture
Photo: Jason Recker
JASON RECKER ALWAYS thought he would take up art during retirement. As the creative force behind graphic design agency Carve Design  since 2004, the 51-year-old was too busy building brands for some of London's largest players to pick up a paint brush.
Click here to view this story in magazine format
Then the pandemic hit, and Recker found himself with time to spare.
Story Continues Below
"I was at the top of my game as a graphic designer, and all of a sudden there wasn't a game," Recker recalls. That's when his wife made the suggestion to buy some canvases.
After spending the best part of three decades creating at a computer screen, Recker found it liberating to create with his hands. An avid rock music and pop art fan, he began with a series of reimagined multi-media Rolling Stone magazine covers.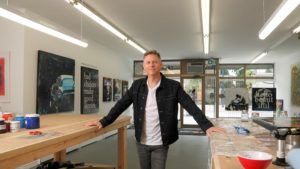 Recker posted the playful artwork to his social media accounts. "After about the third painting, someone asked: Is that for sale? Things moved pretty fast from there."  
Recker's first commission came from New York. "They loved it and the wife asked if I could do one for her sister in Seattle." Recker was soon selling enough artwork to think his new business might have legs.
Story Continues Below
"Social media has been key," he says. "I never would have been able to do this the traditional way by getting into an art gallery that takes half."
A single TikTok video of Recker pouring a resin finish on his artistic tribute to Gord Downie of The Tragically Hip garnered 20,000 views in one weekend ― and led to eight commissions. More recently, Pearl Jam shared one of Recker's reels with their 2.7 million Instagram followers.
"The pandemic gave me the time to explore another creative outlet. It opened up a whole new door for me. I decided to go through it and to see what happens" ―Jason Recker
Recker says most of his clients have been women in search of a one-of-a-kind birthday or anniversary gift for their spouse. He's also sold to recording studios, to families renovating a rec room and to people working from home during Covid who had grown tired of looking at their beige walls.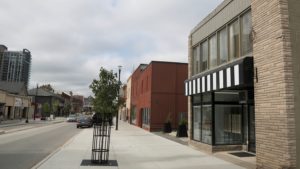 The Recker Art studio at 796 Dundas Street
"I think my art hits a chord with people," he says. "It takes them back to a time when life was simpler."
This summer, Recker took another step towards turning his side hustle into a full-time business. He signed a lease on a 1,400-square-foot art studio and gallery, located across from Aeolian Hall in London's Old East Village. The former gym and retail space needed little work, apart from the addition of lighting and two large workstations.
Story Continues Below
"I hadn't been considering a storefront, but as soon as I walked in, I knew it would be perfect," Recker says. "I've always thought there is a lot of potential on this strip," he adds. "If I can help bring this area back to life, I want to be part of it."
Recker Art is currently open by appointment, with Recker keeping fairly regular work hours in the studio.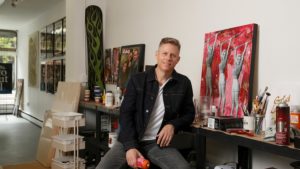 Londoners and visitors to London will have the opportunity to see more of Recker's art when the Hard Rock Hotel opens at 100 Kellogg Lane in late 2022. Already familiar with the global brand, Recker reached out to the company as soon as he heard about the London project. His rock 'n roll artwork and background in branding turned out to be the perfect fit, and Hard Rock offered him the position of art curator for the new hotel and entertainment venue.
"Their mandate is to use as much local talent as possible," explains Recker, who will create his own original pieces for the property in addition to sourcing work from others.
Story Continues Below
That project and his own artwork should keep Recker busy for the foreseeable future. But that doesn't mean Carve Design is on hold. Although he's excited to see where Recker Art will go next, Recker is still working with his stable of existing graphic design clients.
"I'll always be a graphic designer," he says. "The pandemic gave me the time to explore another creative outlet. It opened up a whole new door for me. I decided to go through it and to see what happens."

Nicole Laidler