For Tom Panabaker, a Velofix bike shop on wheels proves to be the ideal later-life entrepreneurial venture
Photo: Tom Panabaker
THESE DAYS, TOM Panabaker spends his working hours driving around in a unique vehicle: a complete, mobile bike shop on wheels, packed with a full set of tools, wi-fi, a flatscreen TV and, soon, a coffee machine.
Panabaker recently launched the London franchise of Velofix, a mobile bike repair concept that first launched in Vancouver in 2012, went on to land a $300,000 Dragons' Den deal in 2014, and now has more than 100 franchised territories across North America.
Story Continues Below
"What we offer is the complete mobile bike shop," says Panabaker. "We're in the business of fixing what's there, everything from minor tune-ups to complete overhauls."
The business model, explains Panabaker, isn't much more complicated than that. Using an online booking system (or phone option if they prefer), clients simply punch in a postal code and book an appointment with a Velofix mechanic. "You select the time that works for you, and I come to your house or your business at that time," he says.
Pull-Quote: "I'm not young. I'm 57. Everybody's talking about retiring and I'm starting something new" ―Tom Panabaker
Generally, a bike servicing takes him between 60 and 90 minutes; customers are welcome to leave their bike with him or stick around and use the wi-fi and coffee machine packed into the van.
For Panabaker, starting a Velofix franchise came with personal motivations, primarily tapping into his own passions.
"I've been working with bikes for as far back as I can remember," he says.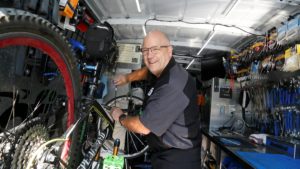 While living out west, many of Panabaker's hobbies — mountain biking, triathlons, Ironmans — were all bike-­centric. "I've worked in different sectors, but I've always had a bike shop in my garage, working on friends' bikes, doing what I could," he says. "It's a personal passion."
So, after 10 years as general manager at the London Squash & Fitness Club, it was time to change gears, as it were. His decision to start a Velofix franchise came out of Panabaker asking himself, "What do I want to do for the next 10 to 20 years of my life? he says. "I'm not young. I'm 57. Everybody's talking about retiring and I'm starting ­something new."
His timing — launching during a pandemic-related bike boom — has been advantageous.
Story Continues Below
"I'm sure it has made people more aware of getting back on the bike," he says. "People have just spent the last couple years ordering everything from the couch. If they're working out of their house, I can show up, fix their bike and give it back."
For now, the operation is small and simple — just Panabaker and the van — and expansion, be it additional ­territories or adding staff, isn't top-of-mind at this point.
"It's something I can get up every day and do with a smile," says Panabaker. "I'm a London-based boy, and I want to make sure I'm part of the community here. I'm not here to replace the bike shops, I'm just here to make the bike community a better place for everybody."

Kieran Delamont