In today's NHL, skating is king. And Kathy McLlwain is a kingmaker
Photo: Kathy McLlwain along with (from left) Boone Jenner, Bo Horvat and Corey Perry
ON ANY OTHER stretch of mornings in mid-summer, the incandescent ice surface at Budweiser Gardens might have belonged to the biggest names in London's talent-rich hockey community.
Click here to read this story in magazine format
But for several days this summer, NHL stars Bo Horvat, Corey Perry, Boone Jenner, Colton White and others happily ceded control to Kathy McLlwain of PowerBlades Skating School, one of Canada's top power skating coaches.
 Story Continues Below
"You need every advantage you can," says Corey Perry of the Tampa Bay Lightning, a 16-year NHL veteran who relies on McLlwain as his offseason power-skating coach.
"Guys are stepping into the league and taking over hockey games and being a star right away. So, for me, any advantage is positive."
Hockey's evolution has made power skating a non-negotiable skill for anyone who wants to play in the NHL, and McLlwain has built a reputation as one of the best coaches in the business.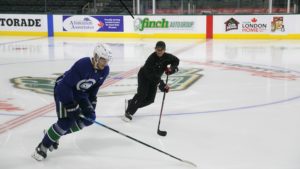 A former elite figure skater who toured the world for three years with the Ice Capades, McLlwain started coaching professionally shortly after she retired from skating in the early 1990s.
She quickly built a world-class business with clients all overusband, Mark, a financial planner and brother of former NHLer, Dave McLlwain. Her coaching business grew almost entirely by word of mouth and despite the lack of any formal marketing plan.
"I'm passionate about it, and I really believe coaching is a privilege; I believe it's a gift" ―Kathy McLlwain
Bo Horvat is perhaps her best-known pupil. The Vancouver Canucks standout and captain began working with McLlwain when he was a raw 18-year-old prospect. Together, they drastically cut down his end-to-end stride count, from a choppy 22 strides when they first started to work together to just three (plus crossovers around the end boards). The league took notice.
"I'm very grateful to be a small part of his journey," she says.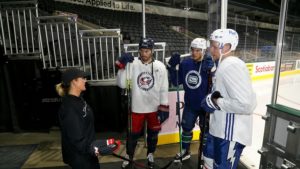 Other clients have included NHLers Ryan and Cal O'Reilly, Christian Dvorak and Michael McCarron, and female players from Team Canada and the London Devilettes.
Though notoriously intense on the ice ("You can hear her outside the arena, yelling," Perry jokes), in hockey circles McLlwain is equally well-known for being conscientious.
"If you work with her, you're going to hear from her," Perry says. "And that's a great thing to have, because during the season you get tired. She'll text you and say, 'Great job last night,' or 'Bend your knees a little bit more, and you'll have a little bit more power,' or whatever it is. She's always there."
Story Continues Below
As she approaches the end of her third decade as a coach, McLlwain knows age will eventually prevent her from chasing 20-year-olds through on-ice pilons. Still, she plans to stay with it as long as she can.
"I do love my job," she says. "I'm passionate about it, and I really believe coaching is a privilege; I believe it's a gift."

Ben Forrest