Getting to the root cause
A new software ­application called Carelytics aims to make dental ­practices happier places — for employees and patients alike
Photo: Dr. Iryna Balanets and Taras Zubyak
WHEN TARAS ZUBYAK and his partner, dentist Dr. Iryna Balanets, got a glimpse of how dental practices are often run, they realized something. While things like patient records and results were usually available in sophisticated, centralized ­management systems, the day-to-day operation of the business was often being done through improvised measures, with some even being run largely on Google Drive.
Click here to view this story in magazine format
"There's nothing really on the market that focuses on day-to-day operations," Zubyak says. Things like employee scheduling, time ­tracking, daily tasks, pairings between ­assistants and dentists — all of that stuff is often being done without tools that could simplify it.
Carelytics, is a platform that Zubyak — a software developer who runs the local firm Code Elves  — designed to fill that void.
"The goal was to bring all the needed tools in the day-to-day life of the employee into one spot, so they don't have to manage multiple accounts from different platforms," Zubyak says.
 Story Continues Below
Many workers will be familiar with systems like this already — platforms that track when you work, what you are working on and so on. What Carelytics is all about, Zubyak explains, is ­building a similar system that integrates seamlessly with existing medical software to offer a more ­comprehensive tool to help someone running a dental practice.
"These processes within dental practices are quite specific," says Zubyak. "Other platforms are trying to appeal to a broad market. We just disregard anything else that's happening in the world; we're just focusing on how things work in Canadian dental practice."
"We realized [dentists] had problems that were easy to fix, but they were just focused on revenue as a primary success measurement" —Taras Zubyak
In its early conception stages, Zubyak says Carelytics was only meant to be about employee engagement.
"We wanted to understand why there was a huge problem of turnover in dental practice. We wanted to understand why the hell that was happening," he says. "We realized there was a huge disconnect between the understanding of how things are from the employee perspective and the owners' perspective.
"We realized [dentists] had problems that were easy to fix, but they were just focused on revenue as a primary success measurement," he continues.
Story Continues Below
It's the kind of project that neither Zubyak nor Balanets would've been likely to pull off on their own.
"About four years ago, we were going through the permanent residency system," says Zubyak, who is Ukrainian. Balanets was working as a dental assistant while trying to get into dental school at the time — and was starting to see how the industry operated.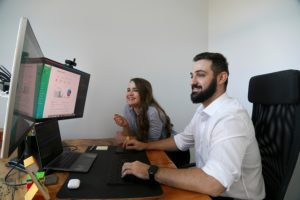 "Me being a developer, we started analyzing things together to see if there was any way to improve dental service ­software," Zubyak says. "It's her experience and her knowledge that was behind the analytical piece. Me being a developer, I don't know what [dentists] are interested in — but she has the knowledge to understand what that data means."
The tool gives dental practice operators a lot of information about their business. It can track employee engagement, a ­central part of the platform that Carelytics calls the "happiness climate," as well as provide analytics to improve business performance and offer anonymous employee feedback.
The company was officially incorporated last August, and according to Zubyak, they have secured deals with "a couple dozen" practices, and they charge based on a subscription model.
 Story Continues Below
"After Covid shutdowns, [dentists] were focused more on their recovery, rather than optimization of their daily ­operations," Zubyak says. He says a concentrated marketing effort is in the offing as the pandemic winds down, and when they can begin to show off the platform at dental conferences and tradeshows.
"When it comes to dental practices, they should be focusing on treating patients and not managing software platforms," Zubyak says. "We just provide them a stable solution, a daily hub."

Kieran Delamont