Revera opens redeveloped Elmwood Place
Part of a push to increase availability, modernize design and improve safety across Ontario's long-term care sector, a redeveloped Elmwood Place officially opens its doors
RETIREMENT LIVING AND long-term care service provider Revera has officially opened its redeveloped Elmwood Place long-term care home at 3400 Morgan Avenue, marking the company's first long-term care redevelopment project to open in Ontario.
"The opening of Elmwood Place marks a significant milestone on Revera's journey to redevelop all of our aging long-term care homes," says Thomas Wellner, Revera president and CEO. "Investing in the redevelopment of older infrastructure is the right thing to do. The new design standards employed here enhance the safety, comfort and care of residents, create a better working environment for staff and help meet the increasingly complex needs of current and future generations of seniors."
Story Continues Below
The new Elmwood Place, which replaces the former Elmwood Place facility located at 46 Elmwood Place West, welcomed its first residents in late September. With 50 additional bed licenses allocated by the Ministry of Long-Term Care, the new home will now accommodate a total of 128 residents, providing increased access to long-term care capacity for older adults in the London area.
"Our government is fixing Ontario's long-term care system so that every resident can experience the best possible quality of life, supported by safe, high-quality care," said Rod Phillips, Ontario's minister of long-term Care. "Building modern homes like the new Elmwood Place is a key part of our plan. The home is providing 128 much-needed beds to seniors in the London area."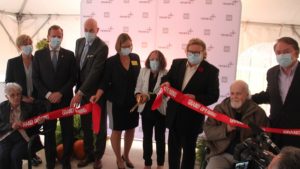 Taking part in the grand opening celebration were (left to right) Maria DeBonilla, Elmwood Place resident; Karen Vecchio, MP Elgin-Middlesex-London; Jeff Yurek, MPP Elgin-Middlesex-London; Tom Wellner, president and CEO, Revera; Lisa Maynard, executive director, Elmwood Place; Wendy Gilmour, SVP long term Care, Revera; Mayor Ed Holder, City of London; Robert Grant, Elmwood Place resident; and Councillor Paul Van Meerbergen, City of London – Ward 10
Revera, based in Mississauga, is undertaking similar redevelopments of existing homes with new facilities being built in Carlton Place, Cornwall and Ottawa, and others planned in Exbridge and Elmvale.
While the push to modernize design and improve safety across Ontario's long-term care sector predated the pandemic, the plan was helped when the province reformed its long-term care funding system — a change that added around $9 million to Elmwood Place's public funding.
Story Continues Below
The new facility is designed to provide greater privacy for residents ― 60 per cent of the rooms are singles with their own washrooms, and the remaining 40 per cent share are dual accommodation with a shared entrance vestibule and washroom but private bedroom areas. Other features include oversized windows which allow more natural light, more expansive hallways and more space for amenities, state-of-the-art heating, ventilation and air conditioning systems and a dementia-friendly secured resident home area and landscaped outdoor space.
"Elmwood Place is organized into four, 32-resident 'neighbourhoods', each with its own balcony and dining room, so each area feels like a smaller community within the larger home," adds Wendy Gilmour, Revera's senior vice president, long term care. "The residents and staff were engaged throughout the process, even choosing the names of the four neighbourhoods – Springbank Park and East Park on the first floor, and Gibbons Park and Victoria Park on the second floor – to help them feel even more at home."