So, You Want My Job: Owner, Arva Flour Mill
Mark Rinker, new owner of the 202-year-old Arva Flour Mill, chats about fortuitous timing, realities that matter and a vision for the future
IN SEPTEBMER, MARK Rinker bought the historic Arva Flour Mill, pledging to preserve its heritage while modernizing its operation.
Click here to view this story in magazine format
Rinker, 55, grew up in London. As a boy, he spent summers riding his bike to the Fanshawe Dam to fish. When he grew up, he often rode a mountain bike around the lake and sailed on it. He went to Montcalm Secondary School and then studied geography and political science at Western University. At 18, he bought the skate-sharpening business at Kinsmen Arena, ­beginning a four-year adventure that effectively launched his career as an entrepreneur. He retired in July after a 34-year career in the food and pharmacy industry.
Story Continues Below
He is married to Jo-elle, who has worked at London YMCA for 27 years and is VP, children's educational service. The couple has two grown children and a granddaughter, Sophie. Both children will join the business, Matthew in sales and Mackenzie as web content creator.
The couple's last trip was immediately before the pandemic arrived, walking through Harry Potter World at Universal Studios and starting to feel uncomfortable touching the handrails.
Congratulations on purchasing the Arva Flour Mill. After retiring from Synergy Medical, what were your considerations as you looked for your next adventure?
Thank you very much. My son, Matthew, asked me the same thing. Matt has worked for me at Synergy Medical the last five years after he graduated from Western. He covered Ontario and Atlantic Canada, and prior to Covid, I was stretching him into Michigan, Ohio and New York in support of our U.S. sales directors.
I said I wasn't sure. I told him I would be starting an investment company and would be looking for opportunities to invest. That's all Matt needed to hear, and he put his resignation in that day to continue to work alongside me. It was special for him to do that — and added some time pressure! Then the mill went up for sale two weeks later.
Finding a local buyer committed to the values of the mill seems to have been important to the former owners, the Matthews family. But sentiment doesn't pay the bills. How do you balance the economic realities while knowing how important its legacy is for so many?
Economic realities aside, the reality that matters is the local —and national — historical significance of the mill. The Arva Mill is the oldest water-powered flour mill in North America and Canada's sixth oldest company. In addition, the six-acre property is part of a special ecosystem that contains endangered species below and above the dam. Being a responsible member of the Arva community and a good steward of the land and business is my primary responsibility. Secondary is commercial success. Over my career I have built value wherever I landed and have confidence we can execute on our five-year business plan.
Story Continues Below
In the short term, what changes will regular customers see?
With the property itself, not a whole lot. There will be renovation this fall to the interior of a building adjacent to the millhouse bakery. This will house milling automation for gluten-free flour production and a segregated section for baking our own bread. I'm excited to taste the freshness of our bread. Imagine going from wheat to flour to bread within 12 hours — it will be awesome!
Inside the bakery, in addition to Tracie's Famous Scones, we will be also offering freshly made sandwiches and made-from-scratch soups.
Inside the Mill Store, there will be subtle changes that will only add to the special ambience Barb and her staff have created. Paper and cloth bags will be added at the checkout. New products will be added. The biggest change will be the addition of a larger modern cooler that will enable a variety of products that require refrigeration, like locally made artisan cheeses.
The massive change will be online. Our immediate priority is to revamp the website and include the more than 500 items that can be found in the Mill Store, in addition to hundreds of other items that promote local nutrition and wellness. Our sourcing will be hyper-local, and our reach will be local, national and beyond.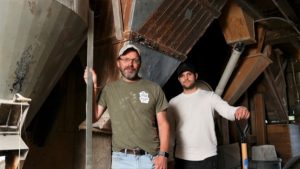 Photo: Mark and Matthew Rinker
In the longer term, you've mentioned the possibility of a winery and using the dam to achieve carbon neutrality. What kind of timelines are you considering?
Those are both very near-term goals actually. Dr. Tony Shaw, professor emeritus at Brock University, was here last month to evaluate both ideas. In short, the three acres of grass on site are suitable for growing Cabernet Franc and Vidal blanc varietals. Vidal would be our ice wine. Tony will also be leading the effort to re-purpose our water turbine and pair it with a generator to make our own electricity. We know there is an immense amount of power that is intermittently available to harness. I should note both projects are subject to key stakeholder approval, and we are transparent with our process and applications.
In a typical week, how much time will you spend at the mill?
I love being at the mill, always have, so every opportunity I get. In reality, Matt and I will be spending a considerable amount of time travelling to advance our business plan.
Story Continues Below
As you implement your vision, will you need to hire more employees?
One hundred per cent, and that's the really exciting part. A key hire is Dustin Blackall. Dustin worked at the mill alongside Mike Matthews for eight years before leaving to work at P&H Milling in Hamilton. P&H is one of the largest flour producers in Canada, and we are fortunate to have him return as general manager of operations. Dustin will be living on site at the miller's home. This home in the previous century was always the home for the miller that worked on site and it's poetic that Dustin will be living there.
Are you a baker? Do you have a specialty?
I'm not really a baker; Jo-elle is. I love to barbecue though, and I particularly love to smoke food with The Bullet Smoker and the Big Green Egg. We love to visit artisan and craft businesses and I must say my go-to weekend trip is BJ's Country Market in Delaware. I'm a kid in a candy store there!

Interview by Christopher Clark