Heeman's breaks ground on new cider production facility
Heeman's begins construction of a new 7,000-square-foot cider and mead production facility
FOLLOWING A NUMBER of site approval delays,  7,000 square feet worth of new brewing space is underway at Heeman's, the beloved strawberry farm on the east end of the city. The new building will house a one-of-a-kind cider and mead production and retail space. 
Heeman's has been making and selling cider in small batches since 2019, selling it through their website and on-site. With a new facility going up, cider and mead production can take place year round.
Story Continues Below
"It really gives us a permanent home for what we've been working towards for the last five years, and we focused a lot on innovation and and really providing some unique products," field and strategic projects manager, Tom Heeman, told CTV News London. 
"When most people are putting up buildings, oftentimes production and tasting bars and the retail experience go together, because the uniqueness of our facility and space in retail is always top priority. And so we wanted to make a facility that we could just produce it," added Susan Judd, Heeman's front end manager.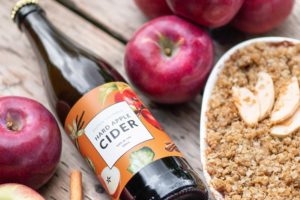 They'll also be brewing mead, an ancient drink that has burst back onto the scene and is popular with those on gluten free diets. It's made primarily with honey.
"It's something that we can do to share our love of bees and help continue a successful beekeeping industry in Ontario," Heeman said.
Production is expected to start shortly after the facility is completed in late January, or thereabouts.
Story Continues Below
It's not the only construction that Heeman's has had on the go this year. In the spring, the farm announced that they had finished installing a solar panel array that was able to cover as much as 60 per cent of the farm's energy needs.
"We have made sustainability a priority," said chief daymaker, Will Heeman, in April. "Now with this solar project, we're able to focus on our greenhouse gas emissions, too. It's just the next in an ever-growing list of initiatives that we take on here."

Kieran Delamont