Set to mark 25 years of business and closing in on 1,000 employees, Joel McLean has built Info-Tech Research Group into one of the city's most successful and sustainable enterprises. And he still gets excited for what's next
Photo: Info-Tech Research Group founder and chairman, Joel McLean
MORE OFTEN THAN not, when Jeff Previte needs some advice about his company's vendor selection process or its occasionally fragmented service desk operation, he turns to his executive counselor, Mary VanLeer.
She knows his company, CrossCountry Mortgage LLC, intimately, and offers Previte a wider perspective than he normally has, working in and among the trees, as ­executive vice president of IT and security.
Click here to read this story in magazine format
The fact that Previte is in suburban Cleveland and VanLeer is in Las Vegas is hardly surprising, given our McLuhan-esque technology village – squeezed still smaller during the pandemic.
Story Continues Below
What may surprise some is that their connection was facilitated by Info-Tech Research Group, a worldwide leader in IT research and consulting, operating in London since 1997.
"She's my right-hand person to have these ­conversations, providing real leadership help," says Previte. Four years ago, at a boutique firm, he discovered how helpful Info-Tech could be. So, when he joined CrossCountry and started assessing the needs and wishes of his various teams, he knew right away where he would turn for help.
"They offer best practices and a strategic perspective that's very helpful and pays off quickly."
It's been nearly a year since VanLeer helped Previte and his team revamp their vendor selection process – ­providing guideposts in the complicated world of software licensing, training and efficiency. "By the end of our first year, we will have saved close to $3 million," Previte notes. "That's terrific ROI."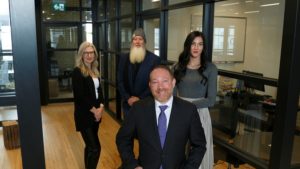 Joel McLean with (from left) Info-Tech's Laura Hansen-Kohls, William Russell and Taylor Pritchard
For all the talk of support and related soft skills Info-Tech provides its members (as clients are labelled), founder and chairman Joel McLean has never lost sight of the fact companies want to save money, too. And so, from day one, he has emphasized the need to do both. As he quickly demonstrated, if you are an industry leader in gathering research and providing support, your members will benefit from better information and cost savings. One without the other is like having a Zoom account with crummy Wi-Fi.
When McLean started the company, operating from one small room, his primary technology was a fax machine, used to deliver reports to early members, outlining IT trends and solutions. Now, on the cusp of the company's 25th anniversary, he runs an organization with more than 820 employees, a figure that's jumped 20 per cent in the last year and is expected to flirt with 1,000 by next summer. They are split between London (334), Toronto (318), the U.S. (139), the rest of Canada (33) and Australia (12).
The pandemic was an enormous challenge because of changes both to Info-Tech's daily operations and in the expectations of its members, all of whom were scrambling to adapt as well.
"We worked flat out, really hard, to create pandemic playbooks to support our members," McLean says, speaking from home via Microsoft Teams, as he has been doing since March, 2020.
Story Continues Below
"It was rapid work to support our members who were at all different levels of preparedness. We helped them to become more efficient, no matter where they were ­starting from. Some, of course, were already comfortable using a lot of technology. But we also helped a lot of doctors to change their processes. It was across a wide spectrum."
In the last year, Info-Tech revenue has increased by 50 per cent. It's tempting to credit such success to the ­pandemic alone, but that would be missing the point of how Info-Tech has grown for more than two decades – and the services it has added in recent years, unrelated to the pandemic.
Perhaps the most important element of the company's success has been its relentless commitment to following repeatable processes, and thus collecting gigabytes of data about every aspect of managing IT in organizations of all kinds.
If you buy a car every three or five years, you understand the dealer has the advantage when you try to negotiate the price – even before pandemic-related shortages left dealer lots empty and further reduced wiggle room. No matter how many YouTube videos you watch, you will never know all the ins and outs of dealer holdbacks, manufacturer incentives and extended warranty pricing. Immersed in the ­process every day, the dealer always has the advantage.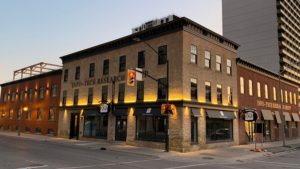 Info-Tech's Ridout Street head office
The same goes for every IT department in any organization you can imagine, from boutique law firms to enormous manufacturers. The IT folks only choose a primary vendor every few years; they only select a new customer interface, or internal communication app, periodically. How can they possibly know best practices?
With Info-Tech on their side, they don't have to.
McLean and his legion of experts, armed with hundreds, sometimes thousands, of case studies, know what will work for any situation. And if they don't, they put a team of researchers on the case and produce answers before the multi-tasking, stressed-out head of IT at company A can even think about finding the time to Google around and produce something loosely called a properly researched recommendation.
"We follow a proven methodology and we're good at it," McLean says. "We create templates and then test them over and over. For example, we work with hundreds of hospitals, often doing the same project, adapted for each unique situation. We give them step-by-step plans to follow, with great tools and awareness of potential pitfalls."
For some members, that's enough. But for many, it's just the start. In Jeff Previte's case, he didn't just want the game plan; he also wanted a coach to help him implement it. And for CrossCountry, it wasn't just one game plan but a series of recommendations and approaches to help improve operations across multiple departments.
Story Continues Below
"Our executive advisors take our members all the way through the project," McLean says, proudly. "With a series of phone calls and Teams meetings, they mitigate risk and help members achieve success and get it done sooner. Having a coach who has done the project before really helps."
For the first decade and a half, that was the model that fuelled Info-Tech's growth. Then McLean doubled down. He moved to a 30,000-square-foot office at Adelaide and Queens and created a new division, McLean & Company. It did for human resources what Info-Tech had already done for IT, providing case studies, templates and coaching for HR managers around the world.
The new division was an immediate hit and perfectly complemented the ­services members were receiving for their IT specialists.
Next up was software. In 2017, the company launched SoftwareReviews, dedicated to helping organizations choose and manage their software packages and subscriptions. It's this division savings millions of dollars for CrossCountry Mortgage, just one year after being engaged.
Buoyed – pushed, perhaps – by the success of SoftwareReviews and continuing growth in all other areas, the company moved again in 2018, to a 70,000-square-foot open-concept space on Ridout Street. The amalgamation of heritage buildings created a unique space – where no one has worked since early 2020.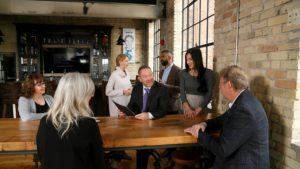 Joel McLean with team members (from left) Nora Fisher, Laura Hansen-Kohls, Annalena Eichenseer, Hussein Ahmed, Taylor Pritchard and Gord Harrison
To no one's surprise, one of McLean's first moves when contemplating a return to the office was to gather data. "We did a survey of our people to see who wants to work from home or come back. We're biased toward in-office, but having said that, our policy is flexibility of choice. We do not expect most people to come back to the office. Working remotely is great. I see that myself. I see my kids, and I like it."
McLean and wife, Lauren, have daughters Elle, seven, and Brooklyn, five. They also have a son, John, who turns two next year.
The company's return-to-work policy is also flexible to allow for the varied circumstances of its employees around the world. "If you are commuting into Toronto every day, why not avoid the drive and work from home?" McLean says.
Pre-pandemic, much of the coaching was conducted by phone or video call. That model was easy to expand when travel was no longer possible. Week-long, on-site workshops shifted to virtual delivery and worked well, too. Some members preferred the approach; others will be happy to welcome Info-Tech experts back to coach them in-person.
McLean, 49, looks forward to the company's 25th anniversary with excitement. His determination and ­enthusiasm are legendary, helping maintain focus on excellence as the ­organization has grown and shifted to multiple locations worldwide. The company has grown every year of its ­existence and expects 40 per cent annual growth organically across its various divisions.
Story Continues Below
"We've always been careful with our money and never had to raise capital," McLean says. "The demand for IT exceeds capacity in every organization, so there is a constant demand for our services. In addition, coming out of the pandemic every executive is becoming a technology executive, asking how they can use technology to do their jobs better. And our goal is always customer satisfaction. How do we delight them? That's what drives us."
Not surprisingly, McLean's role has changed dramatically from the early days when he was on the phone, pitching ­services to potential clients.
"My goal has been to constantly replace myself and move on to our next challenge. We have a great leader in sales, so I'm out of sales. Same goes for research; I'm getting out of that, too."
Story Continues Below
But he's not getting out in general — far from it, in fact. He loves the job as much as he ever has and is excited about what's next, whether that's tomorrow, next year or next decade. McLean has long since stopped listening to would-be suitors, looking to buy the company or partner with it in some form. A quarter century in, he's very much committed to the long-term.
And McLean has the data to back up that position. After all, that's what he's all about.

Christopher Clark