Peony, a subscription-based ­floral delivery startup, finds a receptive — and growing — audience
Photo: Peony founder, Alex McCabe
LKE MANY PROFESSIONALS across many industries, Alex McCabe watched the early days of the pandemic make swift work of her job in sports marketing.
Click here to read this story in magazine format
Working in Toronto on campaigns related to the Tokyo Olympics, McCabe and many of her coworkers were furloughed from their jobs when the games were officially postponed in March 2020. And with the Olympics still very much a question mark, it wasn't clear when — or if — they were coming back.
Story Continues Below
"So, I moved back to London during that time, thinking it was going to be like what everybody thought — that I was going to move home for two weeks or a month, and then everything would go away and we'd be back to normal," she says. "Obviously, that wasn't the case."
Not one to sit on her hands, McCabe fiddled with hobbies, projects — anything to keep busy in those weird days. Hobbies and projects soon got her thinking that she wanted to start something more substantial — something that could be a sustainable ­business, "but also try to create something that would put some smiles on some Londoner's faces during a really difficult time."
What she created was Peony, an online subscription-based flower delivery business that brings a fresh, custom bouquet of flowers to your door either bi-weekly or monthly. Bouquets come in two sizes, a regular-size bouquet, or a larger, ­centrepiece-size bouquet.
"Having the opportunity to send flowers to other people from afar was a great opportunity," she says. "I did some research, and there weren't a lot of ­people working in this space, specifically around flower subscriptions. You could buy one-off bouquets and send them to people — at a high price. But for those people that are staying at home all the time or want to send monthly gifts to people — I thought it would be a great idea."
Story Continues Below
McCabe officially launched Peony in August 2020, starting with 10 subscribers drawn mostly from family and friends. But as word of mouth spread, the number of bouquets continued to grow, reaching 170 subscribers by last Christmas. Nearly a year later, that number is over 500, and McCabe has sent out more than 4,500 bouquets since Peony started.
A part of what has made Peony an early success is McCabe's eye for bouquet design. She doesn't have formal floral design training beyond growing up in an outdoorsy family (her mother, who is also working in the business, has a background as a landscape architect), but she quickly discovered a natural creative flair for creating unique and inspired compositions.
As word of mouth spread, the number of bouquets continued to grow, reaching 170 subscribers by last Christmas. Nearly a year later, that number is over 500
"There's definitely an art to it," she says. "It's fun for me and it's fun for the customers. We keep it personal and special. I come up with a name for every bouquet, and there's a bit of a theme for each bouquet that goes out."
McCabe sources flowers from as many local growers as possible, with many coming from the Niagara region. She also uses flowers she grows herself. (Supply issues, unsurprisingly, have cropped up too: "There's definitely flower shortages that we have to work around," she says.)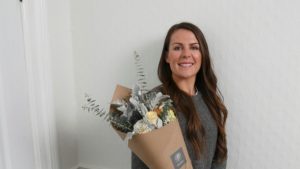 McCabe figures that, while the ­subscription business model has grown quickly in many different sectors, a floral service was still a relatively uncrowded space because flowers are often treated like a one-off gift.
"I think people really appreciate the subscription model because obviously it's a perishable product," she says. "It's not something that's going to last forever, so those people that like to have flowers in their house all the time, it's a really great option."
In addition, McCabe says a three- or six-month subscription makes a great ongoing gift, at a better per-unit cost than single deliveries. Peony ­subscriptions start at $29 for a bi-weekly Peony Original Bouquet ($35 for a once monthly delivery), or $49 bi-weekly for the larger Peony Plus Bouquet (or $55 monthly).
Story Continues Below
One encouraging early sign for McCabe is a low churn rate — she says many of her subscribers stay subscribers.
"Oh yeah, I've got some lifers," she laughs. "A lot of people have stuck with me from the first two months of business. They've been receiving bouquets for over a year now. Having flowers delivered every two or four weeks, it's just becoming kind of a way of life for them."

Kieran Delamont