As the pandemic reshaped the world, a growing physiotherapy business took pause to reshape its brand
Photo: Shyft owner and physiotherapist, Matt Perrie
WHEN MATT PERRIE sees the old name of the ­physiotherapy business he has owned since acquiring it in 2018 —Family Physiotherapy Group — it rings as somewhat utilitarian and a lot plain-Jane.
"We felt it was fairly generic," he says. "Quite frankly, it was forgettable."
To read this story in magazine format click here
When the pandemic came along, Perrie, like many entrepreneurs, took the opportunity to step back and look at things from a macro perspective. Operating two clinics — one at 310 Wellington Road South and one at 770 South Wenige Drive — shutting down temporarily provided pause to examine the business, both from internal and external viewpoints.
Story Continues Below
"When we had the time to reflect and take a step back, our branding was one thing that stood out to me that we could really improve on," he says. "It's been an 18-month process and we discovered a lot, really, about how we saw ourselves and how our clients saw us."
Enter the new brand: Shyft.
To Perrie, the new branding serves a couple of purposes. One is to have a name and identity that clients can attach to — something for which they can feel a little piece of ownership.
"If the pandemic taught our industry anything, it is that physiotherapists really are an essential service" ―Matt Perrie
The second is a bit more abstract. When Perrie describes the work of physiotherapists, he's cautious to say that they don't "fix" people. "We help them fix themselves, and we see the rehabilitative process as acquiring one, sometimes ­several, shifts," he explains.
Those shifts, says Perrie, can be in mindset, in the ­relationship a client has with his or her body and in the understanding of limits and strengths.
Story Continues Below
"Sometimes, it's a shift in attitude to take ownership of the injury," he says. "Sometimes, it can be a shift in narrative — the story we tell ourselves about who we are. These shifts help us take clients from point A to point B — it's the whole reason we're here as physiotherapists."
Hand-in-hand with the new name comes growth for the company. In December, Shyft will open a satellite clinic at the new OEV Health Quarters, a collective of certified independent health care providers on Adelaide Street North that includes an acupuncturist, massage therapy and a psychotherapist, among other services.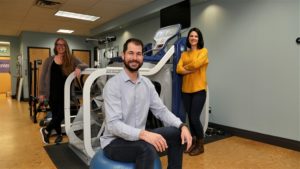 Shyft's Matt Perrie, with (left) business manager, Cassandra Noble, and physiotherapist, Alica Wilson
"To have space there gives us a chance to be in an environment where we can collaborate with other independent health providers," Perrie says. "I jumped at the opportunity, and we're excited to see how it's going to work out and excited to be part of that group. It's something completely different for us."
Perrie will also be opening a fourth facility in the Komoka area later in 2022 to serve the growing population on the city's west side.
"The plans for the west end were already in the works prior to Covid, so if anything, the pandemic delayed that," he explains. "There's still lots of growth out in that end of the city. When you make plans for expansion like that, it's never a short-term thing."
Story Continues Below
Perrie says he is bullish on the prospects of the physiotherapy industry in general — partly because of an aging population that wants to remain active ("I think that's where most of that growth will come from," he says), but also because he believes the pandemic helped remind people how important things like personal mobility and physical health can be.
"If the pandemic taught our industry anything, it is that physiotherapists really are an essential service. Keeping people moving and keeping people active at every stage of their life is important. I don't see the need for that going away."

Kieran Delamont