TechAlliances launches incubator for BIPOC entrepreneurs
Elevate Entrepreneurship aims to support 60 BIPOC-founded businesses with a no-cost, micro-certification incubator program
GETTING YOUR FIRST entrepreneurial venture off the ground is scarcely easy for anyone — but for many aspiring BIPOC entrepreneurs those hurdles can loom much larger ― and getting your foot in the door can be much more difficult.
Hoping to change this, TechAlliance has launched a new no-cost program aimed at helping 60 Black, Indigenous, People of Colour and Women founders to "gain knowledge required to develop their business during disruptive times alongside experts in the innovation economy."
Story Continues Below
The program, called the Elevate Entrepreneurship program, will be a five-week micro-certification and incubator program run by TechAlliance and Fanshawe College Corporate Training Solutions.
"Diverse perspectives fuel innovation, and opportunities that empower equity-seeking communities with entrepreneurship aspirations will bolster Southwestern Ontario's globally competitive innovation economy, " says Christina Fox, CEO of TechAlliance. "When we invest in programming that tackles barriers to entry for equity-seeking groups, we can improve employment prospects for underrepresented communities in Ontario, while simultaneously addressing the gaps within the Canadian innovation landscape."
"Fanshawe Corporate Training Solutions is proud and excited to work with TechAlliance, local employers and community leaders on this essential micro-certification to provide access for equity-seeking populations to obtain entrepreneurship skills for the tech sector to help fuel our economy and support the growth of local businesses," adds Candace Miller, senior manager of strategic initiatives and business development at Fanshawe.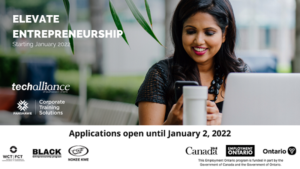 Through the program, founders will be instructed by seasoned entrepreneurs and will have access to customized advisory services and support through TechAlliance. The course itself will, according to TechAlliance, "prepare founders to manage startup challenges, learn finance fundamentals, and define their growth goals with experienced faculty and advisors," and will be led by equity-seeking founders connected with the London chapter of Women in Communications in Technology, the Nokee Kwe Indigenous employment centre and the Black Entrepreneurship Program.
The program will start in January and run as three 20-person cohorts: the first, focusing on women founders; the second focused on Black and POC founders; and the third focusing on Indigenous founders. Each will comprise five weekly virtual learning sessions, coupled with guided modules and peer group meetings.
Story Continues Below
"Think of it as you're joining an incubator, plus you get the added benefit of earning a micro-certification in entrepreneurship," says Trevor Shorte, venture growth & storytelling specialist with TechAlliance. "You get the best of both worlds."
Applications are now open (through to January 2, 20212) to anyone who meets the demographic criteria and who is launching a business.

Kieran Delamont