Education through gamification
Through fun in-game play, Cyber Legends aims to help children safely navigate our digital world
Photo (from left): Farzin Habib Pour, Jared Rietdyk, James Hayes, Cheryl Hayes and David Brebner of Cyber Legends Inc.
FOR TODAY'S KIDS, technology is an unavoidable part of their education and upbringing.
Schools are making increased use of online teaching tools (to say nothing of Covid's virtual school experiment), while at-home devices are ubiquitous; in some schools, kids are even given an email address as they start kindergarten.
Click here to view this story in magazine format
But have we overlooked something? We know the ­internet and technology can be a double-edged sword, and that cyberbullying, harassment and hacking can have ­devastating effects. Parents and teachers alike often assume that kids who grow up using technology will naturally be able to navigate it safely — or at least, better than preceding generations. But what if this is wrong?
Story Continues Below
A group of founders drawn from London's tech scene — Farzin Habib Pour, Jared Rietdyk, David Brebner and James and Cheryl Hayes — are developing Cyber Legends on this exact proposition.
What began life as a concept platform for training ­corporate employees about cybersecurity risks morphed into something different when the invested parties realized that, if they really wanted to develop helpful technology that made a difference, they might need to recalibrate.
"We want to be competing for screen time — and teaching kids how to properly engage with that screen time" —Farzin Habib Pour
"We tried to look at who was most at risk, and we came up with the elderly and kids," says Farzin Habib Pour, co-founder and CEO at Cyber Legends Inc.
As Habib Pour points out, with businesses, the primary cybersecurity risks tend to relate in one way or another to the bottom line. With the elderly, it's similar — finances and savings. But with kids, the potential harms are elevated: bullying, trafficking, abuse and, on the extreme end, suicide.
"We completely shut down our business-facing focus and switched to kids," he says.
Story Continues Below
Cyber Legends is, in essence, a cybersecurity teaching platform that takes the form of an interactive game, set on a colourful, fantasy alien planet under threat from Lord Hacker. It is designed to integrate into Ontario's school ­curriculum and is currently being evaluated by primary-grade teachers in Niagara region.
Students using the game (the first iteration is targeted at grades one to three) learn things like cybersecurity practices, password protection, how to protect themselves online and the basic building blocks of how to code. To guide that process, they are collaborating with experts in the field of education, as well as working teachers, to develop the content.
"I have brought on a PhD in education, and we have four teachers on board creating the teaching resources," Habib Pour explains. He likens it to the children's television show Sesame Street — a content vehicle for teaching counting, reading, writing and math.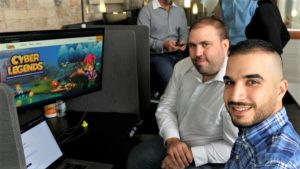 "What we want to do is be a Sesame Street for ­cybersafety," Habib Pour says.
And like Sesame Street, which has aired on public ­television since its debut, Cyber Legends is free for kids and educators. Habib Pour says revenue will be generated from selling subscription plans to parents — at an estimated $8.99 a month — that lets them "accelerate the learning for their children," as well as adding freemium content such as "pets, skins and furniture, so that it's more engaging to kids."
Parents will also get access to more detailed reports highlighting areas where their children might be at greater risk. It's a business model similar to that of Oakville-based Prodigy Education Inc., a company that has turned math education into a video game for millions of children worldwide and recently raised $159 million from U.S. private-equity giant TPG and the Canadian Business Growth Fund.
Story Continues Below
At the moment, Cyber Legends is in what Habib Pour calls "pre-pre-Alpha" — they are testing the teaching materials and a prototype in Niagara schools, gaining feedback and improving the educational materials as they work with a game developer to turn those lessons into in-game quests. All of it is building towards a ­crowdfunding campaign in the spring that will give parents their first taste of the product.
By next September's school year, Habib Pour says the final product "should be ready to go."
Story Continues Below
Referencing games like Fortnite and Roblox, Habib Pour says the end goal is to develop something more than just an educational game. Engagement, he says, is key.
"We want to develop a fun game that kids want to play. We want to be competing for screen time — and teaching kids how to properly engage with that screen time."

Kieran Delamont