Fanshawe Product Testing is partnering with local manufacturer to develop vibration dampening materials for EcoFoot, a rooftop mounting system
Photo: The EcoFoot mounting system
FANSHAWE COLLEGE RECENTLY announced that it is partnering with local manufacturing company Ballycorp Limited to help improve EcoFoot, a hardware mounting system used to install HVAC or other equipment on commercial flat roofs.
Made from recyclable materials, the EcoFoot system consists of a mounting foot that sits on the roof with mounting brackets that install into the feet.
Story Continues Below
Because equipment such as air conditioners can produce a significant amount of vibration, which can transmit as audible noise through a building, Ballycorp is aiming to integrate vibration dampening into the EcoFoot design to improve dampening. In addition, in seismic situations, vibration isolation can protect equipment, structures and piping from the movement.
Current vibration dampening systems can reduce these effects, but they are often bolt-on solutions that are not compatible with some systems.
Story Continues Below
With the support of the Fanshawe's Centre for Research and Innovation, along with a grant from the Southern Ontario Network for Advanced Manufacturing Innovation and financial support from Ballycorp, the Fanshawe Product Testing department and Ballycorp will aim to create sound and vibration dampening materials for EcoFoot's product to protect equipment and reduce vibration.
According to Fanshawe, the teams will collaborate to research the best techniques and materials to use in the EcoFoot product and will design and construct the samples.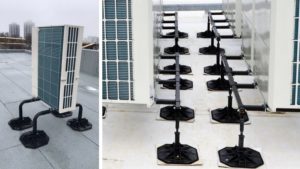 The EcoFoot system is available in different configurations to handle a wide variety of rooftop applications
"Fanshawe Product Testing will develop a unique test fixture and test the samples to quantify the amount of vibration dampening achieved and validate different materials that could be used in the final design."
Story Continues Below
Testing and development will take place at Fanshawe's Advanced Business and Industry Solutions facility on Bonder Road and is expected to wrap up by April.
"This collaborative research project," the college says, "is an excellent example of how Fanshawe Product Testing supports and responds to business and industry research and innovation needs."