Cricket protein facility named top AI project
Aspire Food Group's artificial intelligence solution has been selected as one of the world's top ten AI projects
Photo: Aspire Food Group's Innovation Park plant, the world's largest cricket production and processing facility, will begin production later this year
THE COMPANY BEHIND a new high-tech cricket farm set to open later this year at Innovation Park, has been named one of the year's top ten projects by the International Research Center in Artificial Intelligence (IRCAI).
It's a positive signal for the underlying tech being used by Aspire Food Group, who broke ground last year on what they're calling the world's largest cricket protein processing plant.
Story Continues Below
The plant is being designed as a largely automated, AI-powered facility "leveraging technologies including Waterloo-based DarwinAI's artificial intelligence, robotics and automated storage and retrieval" to optimize the cricket farming process and maximize yield.
The awards, which will be officially recognized by IRCAI (who exist under the umbrella of UNESCO) later this year, were given to companies who are using AI to advance the United Nations' sustainability goals. More specifically, Aspire and DarwinAI's project is being recognized as a "novel application of advanced manufacturing approaches to high quality protein."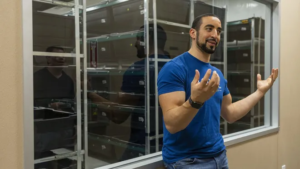 Photo: Aspire Food Group CEO, Mohammed Ashour
"A growing population and increasing demand for food and material requires sustainable, scalable solutions," says Mohammed Ashour, CEO of Aspire. "We are honoured that the IRCAI saw the value in an AI solution which will accelerate the world's transition to sustainable ingredients and materials through insect technology."
"Since day one, our mission has been to transform industries by instilling trust in AI," adds Sheldon Fernandez, CEO of DarwinAI. "This important distinction speaks to the breadth of Aspire's vision and the transformative potential of Artificial Intelligence, and it is a privilege to apply our technology to such a forward-looking initiative."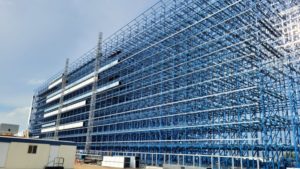 Photo: The under-construction automated storage and retrieval system at Aspire's London facility provides storage for cricket bins
The project has already attracted a good deal of attention here in Canada, with NGen (the industry organization running Canada's advanced manufacturing supercluster program) chipping in $16.8 million in funding last summer.
"This is a truly innovative and ground-breaking project and supports the objectives of NGen — developing transformative and applied world-class advanced manufacturing solutions while creating mutually beneficial partnerships that will have a positive impact on Canadians and the economy," noted NGen CEO, Jayson Myers, last July. "At $16.8 million in Supercluster funding, this project represents a high mark for NGen."
Story Continues Below
Aspire CEO Ashour believes that the plant, coupled with DarwinAI's tech, will turn this facility into a world leader in protein production, a revolution in food production. "What took the poultry industry 70 years to accomplish, we can do in five," he told London Inc. last summer, comparing their improvements in cricket production to the growth in chicken output over the 20th century.
The facility at 2450 Innovation Drive is set to begin production later this year.

Kieran Delamont