Paystone acquires Canadian Payment Services
The Paystone acquisition of Canadian Payment Services makes it Canada's largest bank-independent payments provider
Photo: Paystone CEO, Tarique Al-Ansari, and CFO, Abdullah Saab
LONDON'S PAYSTONE IS now the country's largest independent payment provider.
The milestone comes courtesy of the announcement that Paystone, headquartered on Wonderland Road South, has acquired Canadian Payment Services — the sixth such acquisition the company has made in the past two years.
Story Continues Below
"This is the largest acquisition we've made to date in relation to both new revenue and clients," explains Tarique Al-Ansari, CEO at Paystone. "Additionally, we're also excited to provide additional value to CPS merchants through Paystone's proprietary product and service offerings."
According to the company, the acquisition now means that Paystone services over 35,000 locations across the continent, which collectively process more than $10 billion in transactions.
Acquisitions like this have been the main strategy for Paystone, whose billion-dollar unicorn ambitions are no secret. That target, the company believes, will be best achieved through acquisitions like this that add to their customer base as well as their technology base.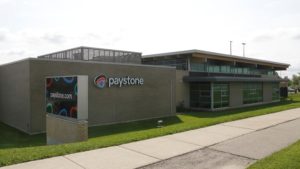 Paystone's head office at 3200 Wonderland Road South
"The main focus is on organized growth. Acquisitions are only to complement our product roadmap," Al-Ansari told London Inc. last fall. "Every acquisition we're looking at, we're looking at them just to enhance that mission that we're on … so that we continue to have a pioneering position in the market, where we have a platform that nobody else can match."
Known as Zomaron until 2019, Paystone's previous acquisitions include DataCandy, NiceJob and POS West, and it has secured at least $100 million in investment over the last two years.
Story Continues Below
According to the company, their growth plans will see them adding more than 100 employees by the end of the 2022.
"Over the years, Paystone has shown their great commitment to serve Canadian small- and medium-sized businesses," remarks Simon Lobanov, managing director at CPS. "We are happy to turn our customer base to Paystone so they can continue to receive the highest level of customer care as well as be able to grow their business via new value-added products proprietary to Paystone."

Kieran Delamont