With global ambitions and millions in new investment, Paystone takes aim at becoming the city's first billion-dollar baby 
Photo: Paystone CEO, Tarique Al-Ansari, and CFO, Abdullah Saab
WHAT IS PAYSTONE?
Paystone is a payment processing platform, for one thing, part of the complicated and unseen architecture that makes even the most quotidian debit purchase happen. Paystone is something else, too — an integrated customer loyalty system that manages customers, can enrol them in loyalty programs and extend to them all manner of customer rewards.
Click here to read this story in magazine format
It is a company that has found a niche by creating a platform that exists at the intersection of those two things, a fintech startup founded a decade ago by Western dropouts that has grown and grown, slowly acquiring new components and building new facets of business, into a firm that in 2021 closed nearly $100 million in investment from some of Canada's biggest financial institutions.
Paystone is also something else in founder and CEO Tarique Al-Ansari's mind: a company in waiting, a game-changing startup that is content enough flying under the radar until it becomes London's first tech company to achieve "unicorn" status (a company with a valuation of US$1 billion or above).
Story Continues Below
"We can be a global business out of London, Ontario — and why not?" he says.
That ambition is about more than a dollar figure. It is about putting London's tech sector on the map — to do what BlackBerry did for Waterloo's identity as a tech centre; to do first what Nortel, and later Shopify, did for Ottawa. They are out, Al-Ansari says, not just to compete, but "to create a category," and to pioneer and lead a new way of doing business.
For several years now, London has been home to strong and growing tech sector, but one without a BlackBerry or a Spotify to give it a billion-dollar stamp on its reputation. Al-Ansari's goal is to change that.
"It took us eight years to figure out how to build the platform. Right now, it's the era of platforms. If you can build a ­platform, you're able to capture so much growth and attract so much investment" ―Tarique Al-Ansari
"The excitement, the thrilling party of scaling and getting there," he says, "is really in being able to change the world."
Paystone's origins go back to 2008, when Al-Ansari and three co-founders launched Zomaron, reselling payment processing systems out of Al-Ansari's ­basement. It was 2008, and paying for things ­electronically was, at least by 2021's standards, a bit of a pain in the neck. Digital payment could still seem like a bit of a Wild West; Tim Hortons didn't even take debit until 2010.
"We saw how difficult it was to accept electronic payments, so we started Zomaron out of a passion to help other entrepreneurs accept electronic payments and make the experience more seamless," Al-Ansari stated in a 2018 Zomaron media kit.
Over the next decade, the service evolved into a more sophisticated payment platform. In 2013, the business was briefly sold to Posera, a payment service firm that worked with restaurants and retailers, before the two companies parted ways a few years later. By 2018, Zomaron was "diving deeper into the world of financial technology," having grown their product from simply payment processing services to "an omnichannel solution for the profit and non-profit sectors," that allowed both businesses and charities alike to be more flexible with the way they took and processed payments.
But the move that would most alter the company's identity came when the company acquired DataCandy, a Montreal-based firm that had created a gift card and loyalty program platform. The ­company rebranded as Paystone. Their goal was to bring together payment processing with the increasingly ubiquitous customer loyalty program idea, creating what Al-Ansari calls a "proprietary technology called Payment Integrated Loyalty."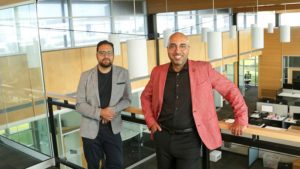 Their transition from the processing company Zomaron to the platform company Paystone is the lynchpin to all this. "I took us eight years to figure out how to build the platform," Al-Ansari says. "Right now, it's the era of platforms. If you can build a ­platform, you're able to capture so much growth and attract so much investment."
Imagine it like this, he says: You're at a hair salon, one you end up being happy with. Right at the point of payment — "one of the most valuable touch points," Al-Ansari says, "a good capture moment, an ­amplification of the interaction" — you can join the loyalty program offered through the platform.
"It actually allows us to turn a payment customer into a loyalty member on the [payment] card, so they don't have to sign up, carry another piece of plastic or sign into another program," Al-Ansari explains. From there, you become a valuable customer to the business insofar as you can be enticed to spread the word. A business might want to run a promo, where an Instagram post or a Google review earns you $5 off your next purchase. "Next time you come in to buy, we can apply the $5 right away, and automate all of that for businesses," Al-Ansari says.
Boiled down, that merging of payment and marketing into one system is what Paystone's value prop is. "That's how we're hoping to build the unicorn," Al-Ansari says. "On that gamechanger."
2021 has made it impossible to ignore Paystone's place in the city's tech sector. Funding announcements have been significant. In January, they closed a $69 million financing round that saw them bring in investment from the National Bank of Canada as well as the Canadian Business Growth Fund, an investment fund made up of Canada's largest banks. Six months later, the team announced that it had secured another $30 million in strategic investment from Crédit Mutuel Equity.
That financing will, they hope, drive Paystone's next stages of growth. "I want to be perceived as a global ­company," Al-Ansari says. "We just launched in the U.S. this year, and I would like to establish ourselves as a North American player, and soon go onto a global scale, expanding beyond North America."
Story Continues Below
The next 12 months will see Paystone expand its ­workforce, and "really putting all the pieces together for the platform and growing the team," Al-Ansari says. Now that they have built their platform, more attention is going to be paid to how best it can be deployed.
That their growth trajectory seems to have accelerated now is no accident. Between Covid and more widespread use of mobile technology in payment, we are in the midst of a true evolution in the way basic transactions are done. The continued growth of social media means the value of reputation marketing has rarely been higher. And on top of that, a pandemic has encouraged businesses to seek out and build loyal relationships with their customers.
Al-Ansari says one of their target demographics is "ecommerce-resistant businesses," mainly service-oriented businesses that don't have an online storefront.
"If you ask any business out there, what is the number one thing you need? They'll tell you they need customers," he says. But not just customers in the aggregate; the real prize is in repeat customers, the kind who write reviews and post about your business. "The secret sauce is to turn their best customers into fans who would do these things to help them grow."
Story Continues Below
What might further explain Paystone's belief that their time has come is also this: It has become increasingly difficult to unlink how you buy with your personal info. In any given transaction these days, you might give to the business your name, a phone number, an email. An online booking might be automatically added to your personal calendar, or you might text a central system for contract tracing. All of this constitutes a trail of digital breadcrumbs about your consumer life. And while none of this is Paystone's doing per se, the platform is ideally positioned for consumers who are getting used to all this.
Many businesses, meanwhile, are getting used to it as well — texting offers to their customers and pushing marketing through a variety of digital channels. More companies are recognizing the need to shift from product-centred strategies to customer-centred approaches, and loyalty programs have become a popular way to improve customer retention.
"When we look across Canada, we definitely see that we're becoming a leading place for startups and scaling companies. When you have a company like Paystone, they will attract talent. They're attracting disruptors" ―Christina Fox
According to the research firm Beroe Inc., the global loyalty program market was valued at more than $180 billion in 2019. A lot of the infrastructure for that is still quite makeshift — many businesses may have loyalty programs they designed and operate themselves — so it was perhaps inevitable that the Paystones of the world might materialize. Shopify helped turn e-commerce and drop shipping into a globe-spanning industry worth, by some estimates, trillions of dollars; Paystone's billion-dollar ambition is that they can do something like that, too.
For now, Paystone is fully concentrated on mapping and managing that growth. Over the years, the firm grew through the acquisition of different businesses — like the one with DataCandy, which brought them new functionality, as well as quieter acquisitions like their 2019 purchases of POS West and NXGEN that rapidly expanded their client base.
Now, Al-Ansari says, "the main focus is on organized growth. Acquisitions are only to complement our product roadmap," he says. "Every acquisition we're looking at, we're looking at them just to enhance that mission that we're on … so that we continue to have a ­pioneering position in the market, where we have a platform that nobody else can match."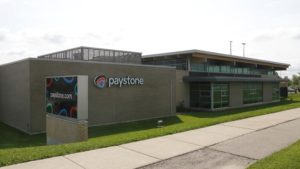 Global ambitions mean it is likely Paystone will, in some fashion, ­outgrow our little corner of the world. With headquarters in both London and Montreal, maybe the time is already coming. (Remote work, too, has greatly expanded their home base, and Al-Ansari says he can't see them requiring anyone to relocate to London, though he'd be happy to recommend it.)
But London will always feature in Paystone's story, says Al-Ansari, no matter where things go from here. To him, Paystone's billion-dollar ambition will help pave the way for London's next big tech export, and the next one and the next one after that.
For the city's tech and business ­community, the idea of the city being home to a tech firm of this size is appealing — a validation of the work the city has put into developing itself as a next-gen business hub.
"When we look across Canada, we definitely see that we're becoming a leading place for startups and scaling companies," says Christina Fox, president of TechAlliance of Southwestern Ontario. "When you have a company like Paystone, they will attract talent. They're attracting disruptors."
This isn't just about Paystone ­specifically, Fox says. Look at the experiences of Waterloo and Ottawa — big tech names are great advertising for the city's tech sector, but they aren't the be-all and end-all of the industry. Where you really see the impact is often in the breakaway startups, the spin-offs and the companies that come after.
Story Continues Below
"Having anchor companies like Paystone and others, it's really helpful," Fox says. "It means there's an appetite, a mindset and an attitude that ­innovation is here.
"I do believe that some of the secret sauce for London is the diversity," she continues. "We don't have all our eggs in one basket."
"I really believe being able to build a scaling enterprise, unicorn or not, puts a city on the map," sums up Al-Ansari. "It's putting London on the map. It's showing that there is a company, led by a dropout of Western, who came out and built the next Canadian tech ­unicorn. This is a team effort, and most of the team came from London," he says. "That's something for all of us to be proud of."

Kieran Delamont