Coinciding with International Women's Day, London business organizations band together to present Smashing Barriers, a virtual event  highlighting opportunities to break bias and create change
Photo: Avery Francis, the founder and CEO of Bloom and keynote speaker at Smashing Barriers
TO MARK THIS year's International Women's Day (IWD) on Tuesday March 8th — the 113th year the day has been marked — five London business organizations have announced plans for the "Smashing Barriers" speaking event.
A virtual event featuring keynote speaker Avery Francis, the founder and CEO of the Toronto-based workplace design consultancy Bloom, is being put on jointly this year by the London Small Business Centre, Women in Communications and Technology, TechAlliance of Southwestern Ontario, the London Economic Development Corporation and the London Chamber of Commerce.
Story Continues Below
The theme mirrors the global IWD Campaign theme, #BreaktheBias.
 "International Women's Day is more than an opportunity to celebrate women," says Christina Fox, CEO of TechAlliance. "We celebrate equality, and we take steps forward for a brighter future for our community – a future that inspires frontrunners, go-getters and leaders in every generation."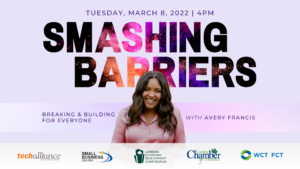 "We recognize the barriers and additional challenges women can face when starting a business, and we want to support them on their entrepreneurial journey," adds executive director of the London Small Business Centre, Steve Pellarin. "More than 63 per cent of our clients are women, and recent growth in women-led businesses has been encouraging."
Francis, the keynote speaker, was recently featured as one of the Top 27 HR Professionals in Canada and is one of the founders of the Bridge School, an organization that has supported and trained women in Toronto's tech industry since early 2016.
Story Continues Below
"In welcoming Avery Francis, we create new spaces for vulnerable and necessary conversations about making impactful change in the work and life of women," continues Fox. "We welcome bold ideas and game-changing action to our innovation community and bring attention to the importance of breaking the bias, making lasting change, and having truly sustainable outcomes in Southwestern Ontario's innovation ecosystem."
The event will be held on March 8 at 4 p.m. Tickets for the virtual event are now available on Eventbrite.

Kieran Delamont