Are you standing out from the crowd?
SEO is how you help customers find your site. And SlyFox Web Design & Marketing has the tools to make sure you stand out in the sea of content
THERE'S CERTIANLY NO shortage of web marketing strategies these days. The options are seemingly endless.
But, if you're a local business and you want results, the absolute foundation of any digital marketing strategy is good search engine optimization (SEO), says Mike Faulds of SlyFox Web Design & Marketing.
Especially at a time when e-commerce and the demands of web marketing have been sent into overdrive, good SEO can be the difference between just surviving and thriving.
"You can create your whole business just around this," Faulds says. "If you can get onto page one of Google, especially near the top, that's all you need — your phone is going to start ringing every day, multiple times a day."
"As long as you have room to grow — you can take on another job, you can hire another worker —smart SEO is going to make you money, no question about it" ―Mike Faulds
As one of the top SEO agencies in town, SlyFox has built its business around helping small- and medium-sized businesses stand out online, and they do that by building well-performing sales funnel pages with a specific focus on search rankings.
"All of our clients see the first page ranking for their search terms when they follow our program," he says.
His pitch is simple: "We can absolutely guarantee success, with 100 per cent certainty," he explains. "If you're a plumber, an electrician, an arborist — anything that has well-established keyword volumes, we can rank you for those terms and accomplishing that will, without question, produce leads for your business."
At SlyFox, their bread-and-butter is working with local businesses looking to compete at the best of their ability locally or regionally. When someone is looking for a plumber, for instance, chances are they will specify in their search terms where they are living — and recognizing that can be the key to ranking higher in the search results.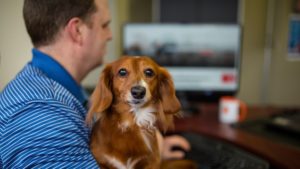 Mike Faulds with SlyFox office greeter, Rusty
For example, one of SlyFox's long-time clients, Ashworth Drainage, has turned to SlyFox for SEO and web design services since 2015. If a potential customer is searching "wet basement London Ontario", they rank right at the top.
"We've consistently been in the top three search results for wet basements," says Dan of Ashworth Drainage. "We've been in business for decades, but SlyFox's smart SEO strategy has been a crucial part of our business success in the digital age."
Click here to find out how SlyFox Web Design & Marketing can easily and affordably improve your website, too
Other customers have seen similar results. SlyFox's SEO strategy took local contractor SWO General Contracting to the number-one spot on Google in local searches for "general contracting" — no small feat in a competitive and crowded industry.
"We've experienced a lot of growth," says Jerome of SWO General Contracting. "Working with SlyFox was a gamechanger."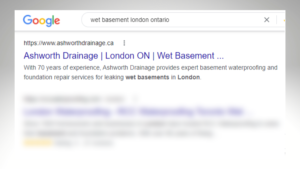 Part of why this works is that it goes right back to the basic principles of marketing. Sometimes businesses come to them wondering if they should adjust their pricing or their branding — but often, he says, it's a matter of visibility.
"I always compare it to lowering prices," Faulds says. "Your price could be one penny for the very best product — but if customers don't know you even exist, it just doesn't matter."
As web marketing has grown exponentially more complex and sophisticated, it might be tempting to write off fundamentals like this. But do so at your own peril.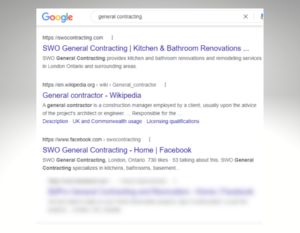 "There are people out there that are skeptical, still," he says. "If you don't like computers or use computers, fine — but your customers do. So, as long as you have room to grow — you can take on another job, you can hire another worker —smart SEO is going to make you money, no question about it."
 SlyFox Web Design & Marketing has been providing core marketing services to London and area small businesses since 2013. Whatever the campaign, the SlyFox team works closely with its clients to ensure they get effective solutions that match perfectly to any budget.
To contact SlyFox or for more details on how they can get your business to stand out in GoogleSearch, visit their website at https://www.sly-fox.ca/seo/.
---
This article was created by Content Studio, TreeTown Media's commercial content division, on behalf of SlyFox Web Design & Marketing