10 Minutes with Jeff Evans
Game developer and owner of The Mana Lounge, Jeff Evans chats about the strategic evolution, ­naming a company and all things nerdy and cool
LATE LAST YEAR, Jeff Evans sold Tiny Titan Studios, the mobile video game maker he founded in 2014, to Trophy Games Development of Denmark. Prior to Tiny Titan, he co-founded Antic Entertainment. Both companies created games primarily for mobile devices.
Click here to view this story in magazine format
He then started a new, yet-to-be-named company with the same 12 employees to create console and PC games.
Evans, 40, came to London from hometown Waterloo in 2003 to work at video game creator DICE. He and his partner have three kids, a dog and a cat. As a kid, his favourite game franchise was The Legend of Zelda. "You can see it influences the games I later created," he says.
When not working, he likes hanging out with his family and watching movies. He also plays poker and rides his BMW R1200GS Adventure motorcycle.
Story Continues Below
Congratulations on the sale of Tiny Titan Studios. After seven years of growing the company, was that a difficult decision?
Thanks! It's always difficult making a decision of that magnitude, but we felt like it would be a good strategic move to shed the past and solidify our movement into the console and PC market. Having to worry about any updates or bug fixes to the mobile titles was a distraction we wanted to leave behind.
Why the switch to console games? What's ­coming first?
Mobile development was initially seen as a steppingstone. At the time it seemed like a more accessible barrier of entry when it was just me in the basement, but as we grew, the viability of creating ­full-scoped premium console and PC titles was ­becoming more and more realistic. It also aligned with the development team much better, as those are the types of games we play significantly more. We're currently working on Ember Knights, a 16-bit ­rogue-like hack and slash releasing on Steam in early access late Spring this year. We're still trying to figure out a new company name.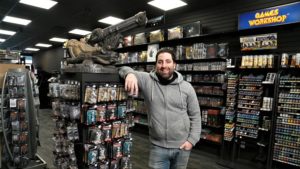 Do the console makers insist on exclusivity when you develop a new game? Some games are on multiple platforms, but others are not. How does that work?
Exclusive titles can certainly happen for the right products, although they aren't as common anymore. Those products are usually deemed as 'console selling' titles by the manufacturers and deal proposals are negotiated to compensate for the more narrow platforms. The console makers hope it will drive new unit purchases to their machines, and the developers hope that the console maker's interest in promoting it more heavily to recoup costs will justify the exclusiveness.
How has your own job changed since you started Tiny Titan in 2014?
Originally, I did most of the entire process. From design, to code, QA, sound and art. As we grew, I was able to hire more specialized people to take those tasks from me so I could focus on the business direction as a whole. Now, I'm primarily game direction and business operations.
Story Continues Below
What prompted you to create The Mana Lounge? Is it fair to call it a passion project?
Yes, that's absolutely fair. I'm a long-time player of the game Magic: The Gathering, having played it off and on since '94. My friend got me back into it in 2019 and I noticed there was a lack of a quality play space. Often you were playing in cramped quarters or old basements. I saw an opportunity in the back half of the office at the time, so within a week we set up the original version of The Mana Lounge. It hit the ground running and within a few months we had the biggest play space in town. That was a good test case and when the opportunity came to expand into a full retail store, I took it. We now operate a full game and hobby store located at 256 Dundas Street, specializing in collectible card games, miniatures, board games, D&D and anything else that's nerdy and cool!
It's often said London has a vibrant gaming sector. How true is that? And does it really matter where a creative company operates today?
Believe it or not, London is the largest per capita game development hub in all of Canada. It's something like one in 900 people in London are game developers, which is actually quite impressive. With the onset of better communication tools, it certainly has made it much more accessible to develop from anywhere in the world. But that said, London is still relatively affordable and can allow a higher quality of life than a lot of other places, so it makes for a great home base of operations.

Interview by Christopher Clark