A new made-in-London board games looks to leverage fun learning to promote the skilled trades
MOVE OVER, CHESS. Step aside, checkers. And get lost, backgammon — there's a new board game in town, perfect for anyone who's wondered if civil engineering and construction can be fun for the whole family.
The game, called JOBSITE, was created here in London by Derek Smith,  founder of construction industry consultancy and training firm Constructionlab, and former executive director of the London & District Construction Association. And according to Simth — it's North America's only construction industry-focused board game.
Story Continues Below
"We keep hearing about needing to find strategies to engage and inform youth and transitioning adults, for the future of trades, professionals and the industry overall — this is a fun, and at the same time an educational, way to for families, institutions and organizations to do just that," says Smith.
"We are bringing to market a traditionally played, high-quality game that we believe has never existed in North America with such a strong theme and real-world learning about the entire construction and design industry."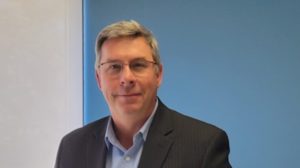 Derek Smith
The creators say this game "plays like a combination of Monopoly, Jeopardy and Pictionary." There are two versions of the game already, the creators say — one version themed around industrial, commercial and institutional construction, and the other themed around homebuilding. A third, themed around design professionals, is going to be released in coming months. Orders, however, are currently on a 10-week timeline, owing to supply chain issues.
As you might guess from the way the creator describes it, the game is part fun, part didactic. Players learn things like common construction acronyms in the course of play, experience something like supply chain hiccups, bid on jobs and manage the budget. The goal really isn't to heap on construction knowledge, but to introduce it in some kind of playful, fun way. Perfect, Smith says, for use in outreach efforts aimed at high school students.
Story Continues Below
Smith is also targeting construction companies and associations as customers, offering to create customized games with company logos and branding, as well as getting their association, organization or union built into the game through customized landing squares and challenge cards — informing and education players about their organization and its purpose.
"An incredible opportunity lies in a local construction association leader, for example, reaching out to their local school boards to let them know they have a product that can connect high school students to the industry, in a fun, challenging and forward-thinking way," Smith says.
Story Continues Below
He also proposes that it could make for a great addition to conferences, industry events, tournaments and even labour negotiations (no good board game is immune to high tensions, after all). Smith says he'll even test this last setting at upcoming ICI and residential construction labour negotiations.
"I will definitely have my game with me to play with colleagues from around Ontario," he says. Given that the negotiations are expected to be tense, it might be a good way to cheer everyone up.

Kieran Delamont