New cannabis conference set for Western Fair District
The two-day CannabisWiki Conference & Expo will bring together leaders from the cannabis, agriculture and academic sectors
A NEW CANNABIS industry conference is coming to town this summer.
Organized by CannabisWiki, a digital cannabis media company based in London, the inaugural two-day CannabisWiki Conference & Expo is set to take place on June 15 and 16 at the Western Fair District and will feature speakers from throughout the industry, including Ashley Athill, CEO of HRVSTR, Ika Washington from Health Canada's regulatory office and Drew Henson, founder of the TOQi vape company.
Story Continues Below
"The CannabisWiki partnership with the Western Fair District is a milestone in the evolution of our industry and will be one of the most important signs to the country that we can work together to bring economic recovery, advance support for medical patients, and safe recreational cannabis to our communities," says the event emcee, Barry Davidson of the Davidson Global Advisory Group.
The choice of London as the home for the conference is a deliberate one, as the organizers seem keen to appeal to the agricultural sector in Southwestern Ontario.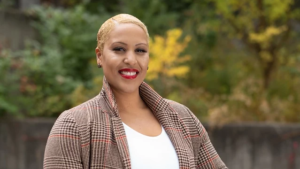 Photo: Keynote speakers include Ashley Athill, CEO of  craft cannabis producer HRVSTR
"This part of Canada is a traditional agricultural and trade hub, it's inevitable and heartening to see cannabis cultivation weaved into that tradition," says Jamie D'Alimonte, CEO of Leamington-based Greenway Greenhouse, one of the conference's sponsors. "As multi-generational members of the Southwestern Ontario agricultural community and industry, [we] are proud to support opportunities for growth, innovation and collaboration in the region."
The conference will also focus on ongoing cannabis research at its Cannabis Research Symposium hosted by the Centre for Research and Innovation at Fanshawe College, a session that "will focus on how research institutions can learn from industry and how Fanshawe can best support the cannabis industry as it brings new products to market."
Story Continues Below
Chief among the topics there might be the proposed changes to the Cannabis Act, released last week, which (among other things) seeks to expand non-therapeutic research on cannabis ― a move which will be welcomed by the academic community who have long complained of bureaucratic hurdles standing in the way of their research.
Other topics that organizers say the conference will focus on are sustainability in the industry, legislative evolution and improving educational efforts within the industry.
Tickets are available for attendees, and booths are still available for any companies looking to participate in the Expo.

Kieran Delamont