In a landscape with plenty of competition and choice, Cross Eyed Optical continues to innovate and evolve
Photo: Cross Eyed Optical owner, Charles Lee
CHARLES LEE KNOWS how to celebrate an anniversary.
After starting in 1997 with a humble shop near Fanshawe College, hidden from potential walk-in customers, Lee and his family will mark 25 years in business this year with a variety of events and new ventures.
To view this story in magazine format click here
Specializing in high-end and designer eyewear, Cross Eyed Optical is named after a Bible verse, a nod to Lee's faith. He needed a lot of faith 25 years ago when he came to London to start his own business, after a decade working for others in Toronto.
Story Continues Below
"I remember pulling a stroller up the steps to our Second Street apartment, thinking I had to make this work. I got a $10,000 loan to buy the equipment we needed, but the first few years were not a huge success."
He and wife, Helen, had one baby, the first of three children they would have in the early days of the business, delivering a mixture of joy and pressure to succeed.
The breakthrough happened when Lee moved the business to Richmond Row in 1999. The synergy of his personal service approach with actual customers made things click. After 16 years downtown, he moved again in 2015, this time to a brand-new space on Wonderland Road, just north of Oxford. He's two doors down from Sunset Grill, where he enjoys a hearty breakfast several times a month.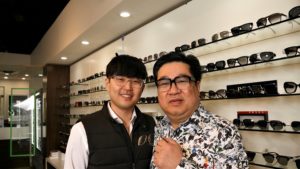 Photo: Lee and son, Joseph
Joining him for breakfast on a recent chilly spring morning was son, Joseph, 26, the baby in that stroller going up the stairs. He joined the business in 2017, works full-time and will earn his optician licence this spring. Chalk that up as the first big event during the 25th ­anniversary year.
Story Continues Below
Another new development is the natural extension of Lee's obsession with providing unique solutions for his customers. He wears a pair of bespoke specs himself, with a bolstered nose pad and clips on the arms to keep things in place. He's always fiddled with designs to make them fit perfectly.
Later this year, he will install the equipment needed to produce custom frames, from scratch, in the store. Think of it as a kind of open kitchen, where customers can watch him design and craft unique frames. The station will be just inside the door, not hidden away in back. You'll be able to watch your glasses being made, which is a lot more fun than waiting for them to arrive from a distant lab across the country, as most of us do.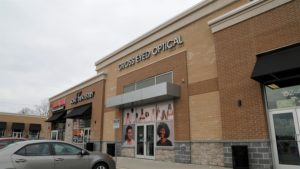 His training on the equipment happens in Paris this summer. He'd love to take the whole family (in addition to Joseph, there is son, Joel, 24, and daughter, Charlen, 22) for a couple of weeks.
His excitement to start making his own frames pales next to the joy he feels describing the 25-anniversary giveaway he is planning.
"We're going to give away 25 pairs of glasses or sunglasses to our loyal customers. Those are the people who made this business a success, our regulars who trusted us over the years and kept coming back."
Story Continues Below
The giveaway will cap a year of celebration and transition. Lee, 58, has no plans to retire. He loves his job far too much to walk away. He has plenty of time to play hockey with his friends and takes pride in being the official optician for the London Knights.
"Service is important, but that alone doesn't keep ­customers. You have to build a relationship, and we've been doing that for 25 years."

Christopher Clark