Stepping up to lead the London Lerners LLP office at a transformative time, Yola Ventresca navigates new norms, new ways of working and greater cause for change
Photo: Lerners LLP managing partner, Yola Ventresca
CHANGE IS AN inevitable part of the legal profession. But the speed and breadth of change experienced over the course of the pandemic has been unprecedented in the legal field.
Click here to view this story in magazine format
In January, Yola Ventresca was appointed managing partner at Lerners LLP's London office, taking the helm from long-time managing partner Graham Porter, who continues as chair of the firm. And from evolutions in technology to the demands of new generations of lawyers, Ventresca is stepping up at a transformative time for the firm — and profession as a whole — balancing both long-standing traditions with an industry facing unique challenges as it welcomes a new chapter.
Story Continues Below
"The pandemic has changed the legal profession as a whole, rapidly accelerating the pace of modernization in a profession that has been resistant to change," says Ventresca, who herself is an accomplished litigator and certified workplace investigator with a track record of successful strategic leadership, business development and involvement in the London community.
For one thing, Ventresca says the industry's adoption of digital tools and remote court proceedings are here to stay.
"Young lawyers are looking for a place that aligns with their values" —Yola Ventresca
"Virtual trials, meetings and consultations are not going away," she says, pointing to factors such as the ease at which expert witnesses can be presented, reduced travel time and the ability for individuals and organizations to work with lawyers who are physically in a different location.
"It's benefitted clients and been somewhat of an ­equalizer, to the extent that clients have more choice in who they use as legal counsel."
And while the legal field historically relied on an in-person workforce, law firms made drastic changes to not only accommodate remote work, but also maintain productivity during the pandemic. Those modifications, says Ventresca, have quickly spilled over into the hiring and recruiting processes.
Story Continues Below
On one hand, she says it has expanded the pool of ­candidates for law firms when they are recruiting ­associates, since most have been working remotely and will continue to do that in a hybrid model scenario.
On the other hand, "It's created a war for talent," she says. With the pandemic cracking open the labour ­market for lawyers provincially, nationally and ­internationally, Ventresca says stories about New York firms hiring ­associates who are living and working in Toronto are now commonplace.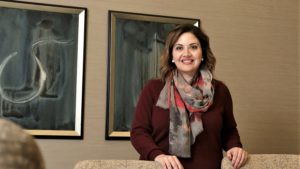 "We haven't seen as much poaching of our folks in London," she adds, something she attributes in part to a workplace culture going back more than 90 years that she believes is attractive to young talent. "Young lawyers are looking for a place that aligns with their values," she says. "We've always been change agents, not afraid to take risks and to make room for the systemically disadvantaged."
Relating her experiences as a young, first-generation Canadian entering the law field (her parents were born in Lebanon), Ventresca says one of her biggest challenges was simply learning the culture of the legal community. At Lerners, she says she found extraordinary mentors, and a workplace that supported the retention, promotion and success of all staff, including women with families.
Story Continues Below
Those are values and practices that remain vital at the firm today, and for Ventresca, they help map the way to further foster a culture of equity, diversity and inclusion (EDI) that embraces the unique backgrounds, perspectives, experiences and talents of individuals at all levels of the firm — a commitment formalized with the recent hiring of a full-time EDI specialist.
"These are hard issues to tackle. We put our money where our mouth is," she says. "This person's full-time job is to interrogate our policies and procedures, and to give us feedback in order to increase diversity and promote ­inclusion."

Kym Wolfe