With an eye for detail and user experience, a small firewood supply business quickly heats up
Photo: Campfire Ninja owner, Andrea Stuart
IT'S A PRETTY accurate depiction to say Andrea Stuart came to her small-business startup, Campfire Ninja, honestly.
Click here to view this story in magazine format
Stuart's home in Ilderton is wood-heated, so she and her husband were regularly buying cords of wood and splitting them for their own use.
"I thought I would take some of the wood we use to heat our home and put a few bags of firewood at the end of our driveway," Stuart recalls. "To my amazement, the wood was gone within a couple of hours and there was money in our mailbox."
Story Continues Below
Formalizing her small business in the early days of the pandemic, Stuart ­benefitted from the wave of people embracing outdoor activities and looking for fun ways to get out of the house. Backyard firepits became more popular than ever, stoking demand for the firewood she was selling, and it wasn't long before she expanded her product offerings to include specialty woods for smokers, pizza ovens, ­barbecues and egg-style ceramic cookers, and accessories like fire starters and grates for cooking over a wood fire.
Sourcing her wood from a local supplier, Stuart has set up a heavy-duty canvas shelter on her property, which operates on a self-service basis and is open year-round, seven days a week.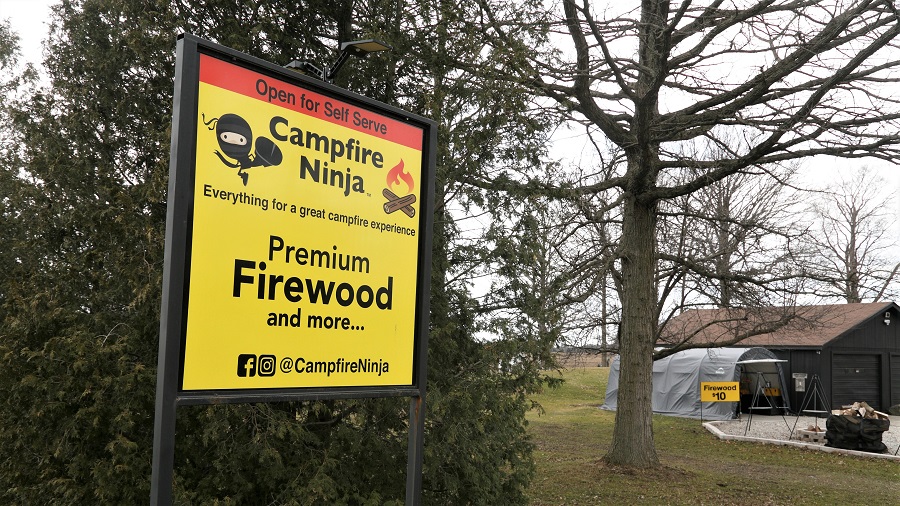 "Self-serve has been key," Stuart says. "We often have customers show up at ten in the evening to buy wood for their campfire. We keep the lights on to make it easy for late-night shoppers."
Because her business is on the same property as her home, Stuart says she can keep an eye out, giving customers a wave from her front door or going out to say hello when she can. The location on Vanneck Road brings drive-by clientele, and Stuart also relies on ­word-of-mouth for promotion and spends a lot of time ­communicating with customers through social media.
"I have learned how to make the self-serve experience better by listening to my customers and making adjustments along the way" —Andrea Stuart
Putting herself in her clients' shoes when she established Campfire Ninja, Stuart says, "I personally drove my car down Vanneck Road and into my driveway, parked and tried to buy some wood from myself."
After getting mud on her shoes, she immediately installed gravel at the entrance to the woodshed. She also realized firewood can be messy, so she cleans all her wood with high-pressure air and wire brushes so people don't get sawdust and bark in their vehicles, and supplies paper trunk liners that can be also used as fire starters.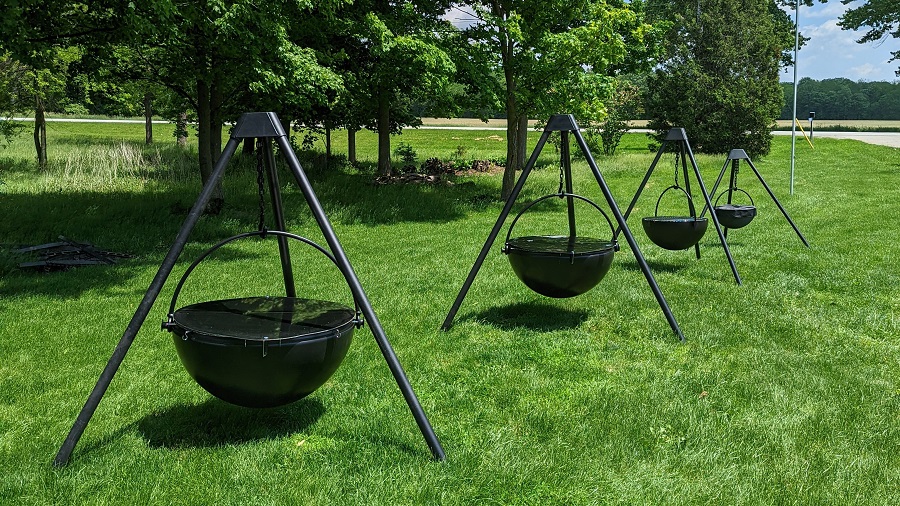 Photo: Cowboy Cauldron fire pits and grills
Most of the firewood is bagged and ready to pick up, and larger quantities of specialty wood are in carts that can be easily wheeled to a car. "I have learned how to make the self-serve experience better by listening to my customers and making adjustments along the way," she says.
In part, those conversations with customers led to her to adding a range of outdoor cooking gear and ­accessories, and research brought about her most recent product addition, the Cowboy Cauldron, which is a high-end fire pit and grill made from a solid piece of steel that hangs from a sturdy tripod. Sourced from the manufacturer in Utah and available in three sizes, Stuart describes the firepits as "the most beautiful and well-designed outdoor objects I have ever seen."
Still, most of her products remain locally sourced, which Stuart says has helped her avoid some of the ­supply-chain disruptions experienced by many small businesses throughout the pandemic. "I know it sounds like a simple thing," she says, "but many businesses are struggling to deliver on this most simple of promises to their customers — always having the ­product to sell."
Story Continues Below
As for the future, Stuart says her dream is to build the business into a completely off-grid, self-serve retail store.
"My husband and I have been ­brainstorming and doing research," she says. "We want it to be a really nice place for people to come, learn about firewood and our other product lines, but also cater to the frequent buyer that just wants the convenience of easily buying good-quality ­firewood. This may not happen in the short-term, but over the next year or two I'm going to be exploring this ­concept more."

Kym Wolfe