Boosted by the pandemic and evolving consumer needs, an online platform shakes up the conventional pharmacy model
Photo: The Health Depot co-founders, Agata and Andy Donald
PROVIDING PRESCRIPTIONS, HOME healthcare products and more than 10,000 over-the-counter items, The Health Depot is a one-stop online shop for pharmaceutical care, using digital technology to make it easier, more convenient and more cost effective for consumers to access the pharmaceutical-related products and services.
Click here to view this story in magazine format
Founded in London in the early months of 2020 and ­operating from 629 Consortium Court, the business was launched by Andy Donald, a former Shopper's Drug Mart pharmacy owner, and his wife, pharmacist Agata Donald, with the aim of modernizing the pharmacy experience.
Story Continues Below
According to Andy Donald, their goal at the outset was to create a well-rounded and well thought-out pharmaceutical care platform for patients with a mission to revolutionize pharmacy practices and expand access to knowledge for patients utilizing an innovative digital platform.
"I'm always trying to push the boundaries of what we can do to help," says Donald. "We have the information, tools and expertise that we need to make a big difference."
In addition to providing same and next-day shipping across Ontario, The Health Depot platform regularly features blogs and webinars aimed at helping patients understand health and healthcare issues. And with access to Ontario's ClinicalConnect eHealth platform, its pharmacists are ­capable of providing a range of pharmacy services in addition to fulfilling prescriptions.
"The biggest excitement for us is that this acquisition will allow expansion throughout Canada, and so many more opportunities as we move forward" ―Andy Donald
"With access to e-health, new technology and tools, The Health Depot is able to take part in combatting medication overuse and improving chronic disease management by helping to personalize medications to each individual based on side effects, drug interactions or how our bodies process them," says Donald.
Keeping user experience top of mind, getting started on the platform is easy for consumers — they either fill out a quick form online or reach out via phone to initiate the registration ­process. From there, the platform boasts integrations that continue to put the focus on making the experience easy, with payment processing, insurance processing, free delivery and real-time access to health information.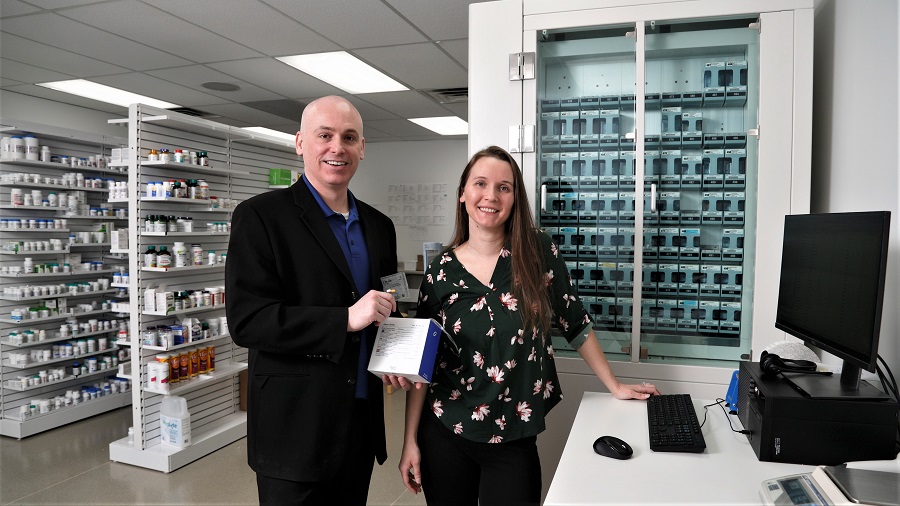 Having been built by pharmacists with a passion for patient care, The Health Depot platform also provides a personal health companion program that ensures clients are taking the right medicine at the right time, and puts a robust inventory of care resources at the tip of their digital fingers.
With approximately one-third of Ontarians without a family practitioner, and collaboration and health information being limited and siloed in the community setting, the innovation and growth trajectory of The Health Depot caught the eye of ­Windsor-based not-for-profit benefits carrier Green Shield Canada (GSC), which acquired the business in March.
The deal came about as GSC had been quickly expanding into the digital healthcare space since the start of the pandemic.
Story Continues Below
"GSC aligns with our company's values and vision," says Donald, adding that the leadership team for The Health Depot remains in place, and the day-to-day operations remain the same.
"The biggest excitement for us is that this acquisition will allow expansion throughout Canada," Donald sums up, "and so many more opportunities as we move forward."

Quinn Palmer