Expanding social enterprise Skilled Accents creates community capital by supporting immigrants and newcomers
Photo: Skilled Accents founder Kay Habib
KAY HABIB HOPES that before companies start shopping for staff and client appreciation gifts for the holiday season, they will pause before filling an Amazon shopping cart.
Click here to view this story in magazine format
"I'm hoping they will ask where is this product coming from? What impact will it have on local workers? Or on the environment?"
As the founder of social enterprise Skilled Accents, which has recently grown by ­absorbing the like-minded social enterprise World Tailors, Habib runs an organization with a trio of equally important pillars: people, planet and profit — and she is constantly juggling all three.
Story Continues Below
The company produces a variety of sustainable fabric products, including pillows, aprons, wine bags and totes. Through Skilled Accents, Habib provides employment opportunities to refugees and newcomers to Canada — and repurposes discarded textiles that would otherwise be thrown into the garbage.
She is also conscious that Skilled Accents is a business that needs to make money if she's going to keep the doors open.
"We strive to provide skills training and a safe space, and to reduce unemployment in local marginalized ­communities," Habib says. "We do a lot of coaching about the Canadian workforce. Some of the women progress to take on supervisory roles with us, some have moved on to school or other work.
"We do a lot of coaching about the Canadian workforce. Some of the women progress to take on supervisory roles with us, some have moved on to school or other work" —Kay Habib
"Part of our mission is to recycle and repurpose ­textiles," she continues, "to reduce waste and better help the environment."
As for profitability, Habib says building a for-profit social enterprise that can change the community for the better is a challenging task, but the young organization is moving in the right direction. "We are just breaking even right now."
The items produced by Skilled Accents are sold in the company's showroom in on Woodcock Street near the intersection of Hyde Park and Fanshawe Park roads, at Covent Garden Market on Saturdays and at various area pop-up markets, particularly during the holiday season.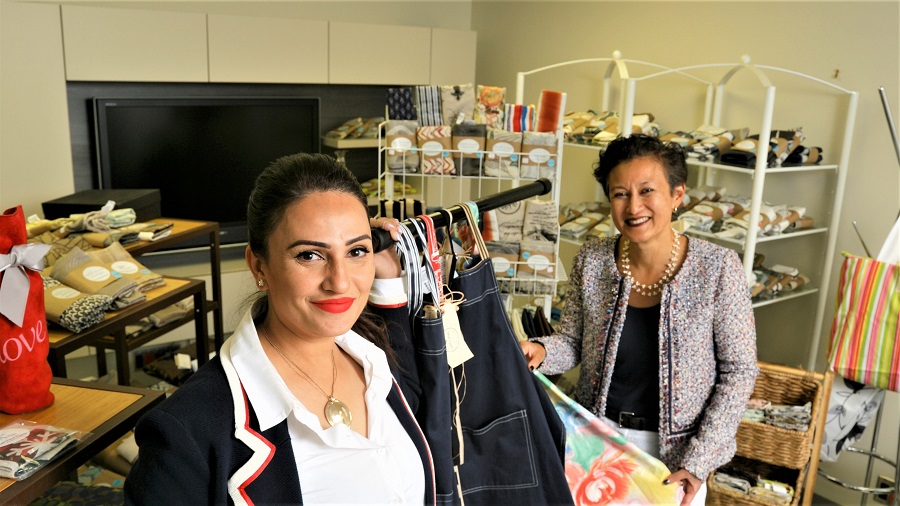 Photo: Kay Habib and Skilled Accents business development director, Cecile Klerks
When Habib first arrived in Canada, with a master's degree in interior design from Pakistan and an MBA from Australia, she planned to establish herself as an interior designer. But her credentials were not recognized here, so she completed a certificate in home staging and launched her own business, Skill Décor. That business provides interior design and staging services to real estate professionals, builders and homeowners.
"I love to sew, and when I couldn't find what I was looking for I decided to sew accent pillows for a few of my clients," Habib recalls. She had ­established relationship with high-end furniture and drapery stores, and they started giving her fabric samples, ­remnants and bolts of discontinued materials that were destined for the landfill. Those relationships continue to this day, and other sources of materials have been added over time, like burlap coffee beans bags from Fire Roasted Coffee Co. and discarded medical gowns that become lining for tote bags.
With two young children and a business to run, Habib didn't always have time to sew the pillows that she wanted. Four years ago, she learned about a sewing group at Cross Cultural Learner Centre and connected with the women there, laying the foundation for Skilled Accents.
Story Continues Below
"Most were Syrian refugees, many spoke no English," she recalls. But they did know how to sew, and they were interested in working. Habib was able to provide six of them with sewing machines and helped them set up ­sewing areas in their homes.
"Our workers are paid by piecework and have flexibility to work around their family's needs and their ESL classes," she explains.
Recently, when the owner of social enterprise World Tailers decided to step away after 11 years, Skilled Accents absorbed the company's four workers and its production facility on Adelaide Street, where they make high-quality aprons and market bags.
Story Continues Below
Right now, the most pressing ­challenge for the growing organization is getting its products in front of consumers. "We have a lot of capacity, but not a lot of sales channels," says Habib.
Which brings us around to her ­callout to local businesses looking for a meaningful way to make a difference with their corporate holiday gift-­giving. "If local businesses see the value in what Skilled Accents is doing and start to purchase large numbers of gift items, that will have a huge positive impact on both the workers and the environment," she says.

Kym Wolfe