Accelerating scientific innovation
By improving the exchange and accessibility of scientific information, an online education ­platform helps science move faster
Photo: InsideScientific.com founder, Andy Henton
WE MIGHT STILL think of pharmaceutical and biopharma research as taking place in large, in-house R&D compounds, but the reality these days is that much of this has been outsourced.
Click here to view this story in magazine format
Today, the work is far more decentralized, comprising a vast global network of biopharmaceutical researchers, scientists and pre-clinical research companies whose innovations and technologies feed into the wider pharma industry. It is from this nebulous soup of smaller research firms that a good bulk of medical innovation derives, historically rippling out into the medical industry through the channels of trade shows and travelling salespeople.
Story Continues Below
Andy Henton, founder of InsideScientific.com, knows this well enough, having spent eight years working for a previous London-based startup that manufactured instruments for biopharma research in the 2000s. "I ran around the U.S. rolling a Pelican case behind me full of these products," he laughs.
It's not always the most efficient way to disseminate medical research. "The reality is that in pre-clinical research, it's filled with lots of small- to medium-sized businesses," continues Henton. "My business partner at the time, we were both like, 'There's got to be a better way to educate pre-clinical researchers and scientists about these tools and methods.'"
"We encouraged our clients to stop investing their valuable marketing dollars on expensive travel…and to start communicating right from your desk to the masses" —Andy Henton
What they launched in 2013 was InsideScientific.com, a platform that produced and hosted educational content for these research businesses (Henton took over the business as sole owner in 2017). If a research company develops a promising new device — a new heart sensor, let's say — just selling it and getting it into the hands of bench scientists isn't the end of it.
"Scientists need to become aware of new technologies," Henton says, "and they also need to learn how to use devices, calibrate them, interpret the data and avoid errors. We encouraged our clients to stop investing their valuable marketing dollars on expensive travel costs for lab visits and exhibition at scientific meetings where interactions are one at a time, and to start communicating right from your desk to the masses."
They are, then, effectively a media production company. In 2021, they hosted more than 150 online events ranging from individual 60-minute webinars to virtual summits and multi-day conferences, all online.
Story Continues Below
The company's focus on delivering educational content over the web predated the pandemic and, in Henton's view, prepared them perfectly for it. They were already doing what everyone had to learn to do in 2020 — delivering education virtually.
"It was well overdue," says Henton, referring to the way scientists presented, shared and collaborated on research. "It's an example of an industry that, out of the pandemic, has shot forward in what would've taken 10 years otherwise. The degree of collaboration that has occurred because of the pandemic in science is amazing."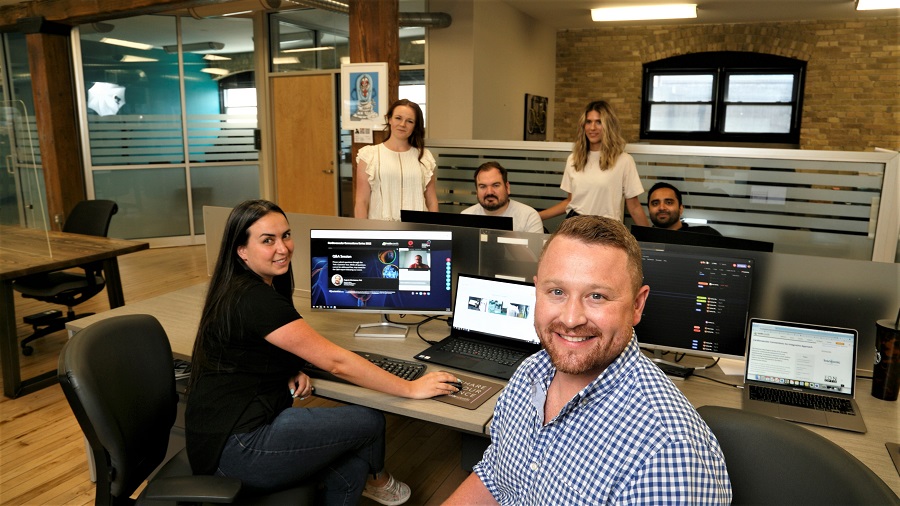 Photo: Henton and some of the InsideScientific.com London team
In 2021, InsideScientific.com was purchased by California-based contract research company Scientist.com, an e-commerce technology company that operates private marketplaces for most of the world's leading pharmaceutical companies, including over 100 biotechs and the (U.S.) National Institutes of Health. In simple terms, they purchased InsideScientific.com to bring on a media, education and marketing arm for the company.
"They came knocking saying, 'We don't do what you do. We don't produce content, but the mission is to make science and innovation happen faster,'" Henton recalls. "We immediately saw this nice fit — if Scientist.com had media channels like InsideScientific, they could bring our content to their marketplace users, and equally we could help communicate the value of Scientist.com to our subscriber base. It was a great match, and out of that formalized the opportunity to create a new division at Scientist.com."
InsideScientific.com officially joined the Scientist.com fold in mid-2021.
Henton says the acquisition by a large American player opens up more resources for the company, and he's expecting it will lead to additional growth. And London, he says, is the perfect home for that: a city with a historically strong medical research sector and a quickly growing digital marketing sector. His business lives right at the intersection of the two.
Story Continues Below
To grow the company (InsideScientific.com now has 12 employees and works with a team of 20 in the overall marketing division of Scientist.com) they are explicitly trying to leverage these two local strengths — in part by taking on interns from Western and Fanshawe from the science and communications streams.
"It's a really strong fit for us right now," sums up Henton. "Having come to London for school, staying, working for a local tech company and then starting my own business to being acquired and now having an opportunity to grow here — it allows us to anchor in the community and uncover opportunities to work with science and tech companies, but in new ways. I think we're in the right location — a particularly strong location to tap into this talent."

Kieran Delamont